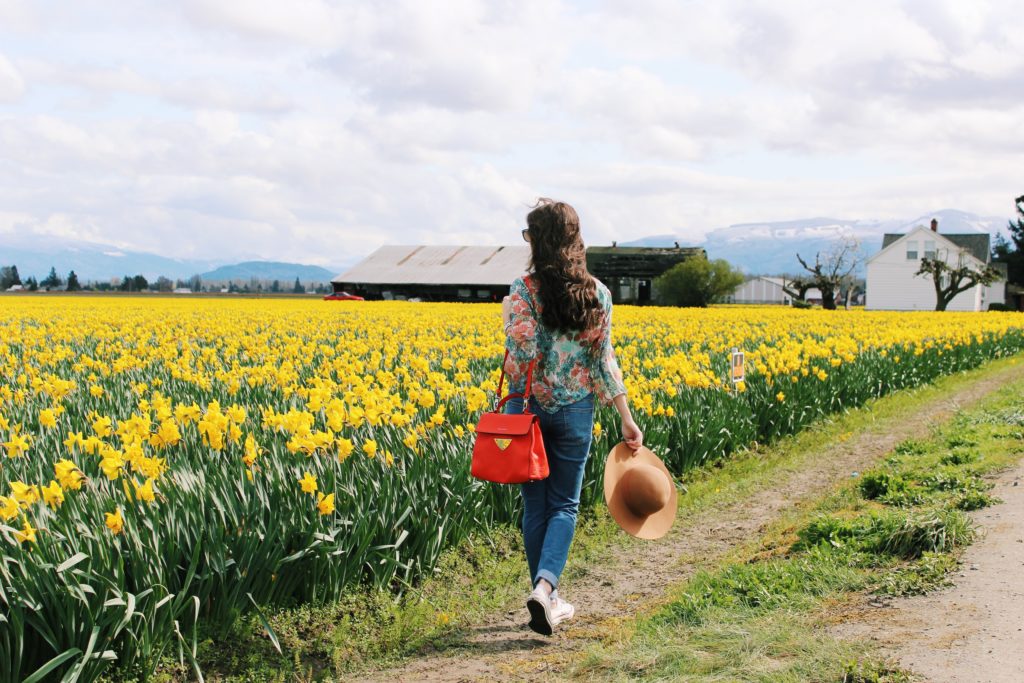 Last weekend I visited the Daffodil Fields in Skagit Valley, about an hour from Seattle. I don't know about you, but nature is one of those things that makes me think big because it causes me to realize that I am so small comparatively. If you follow me on Instagram, you knew that this week I would be making a "big, life changing announcement."
About a year ago today, I received an offer for my dream job that would require me moving to Seattle. Up until that moment, I would argue that in my life I had always taken the "safe" road. What does that mean exactly? Well, San Diego was safe. Sticking to the same interests and friends was safe. With a move to Seattle, it forced me out of my thinking. It is a little over a year ago today that I shared that I would be moving in the post you can find here. The theme of that post went with the mantra:
Your life does not get better by chance, it gets better by change. 
This move turned me into an advocate. An advocate for embracing change. An advocate for considering "comfortable" another word for "not to your full potential." It made me an advocate to so many friends that you can not just survive, but thrive when life throws you the unexpected. Most importantly, it made me an advocate for never, ever settling for less than your full potential.
In October 2016, a few months into my move (3 months to be exact), I wrote this post on the good, the bad, and the ugly about moving to a new city. Let me just recap and say that this move made me deal with 1) making a whole new network of friends, 2) seasons – because hello San Diego seasons are nothing compared to the PNW, 3) taking care of myself, and finally 4) turn my blog from an on-again off-again project, to my main hobby.
A few months ago, I received the opportunity to move to the Bay Area where our HQ was located. I will honestly say I am so grateful to have a team that supports me and looks out for me. That is helping me to move up in my career. I feel #blessed. I'll also be 100% transparent and say that staying in Seattle would have been the more comfortable and easy option. But like I said, Your life does not get better by chance, it gets better by change. 
But more so than this post being about an announcement, it is about saying thank you to a city and to so many people that have made Seattle my home. To my friends at work, the bloggers who reached out to me, and to the friends I made in the most unexpected places – thank you. This entire experience has felt like I've had a guardian angel sitting on my shoulder. Whenever things started to get hard in the last few months, someone or something would walk into my life and remind me to keep being positive, inspired, and motivated.
Before you get all teary-eyed, I'm not leaving yet! The projected move date is in October, so Seattle, you're stuck with me for a few more months. But that being said, this entire experience has taught me a few life lessons:
Live everyday to the fullest. I have had 0 regrets since moving here. Every weekend has been about visiting new places and meeting new people. I've been checking things off my Seattle bucket list (I'll be sharing that soon), and by the time I move, I think I'll have completed everything. Don't say that "you'll do it tomorrow," do it today!
Keep meeting people. I honestly don't know where I would be without my blogger community that has greeted me with open arms. But if you're not a blogger and you're in a new city, there are no excuses! With technology these days it's so easy to meet new people. Think: Bumble BFF, Meetups, etc.
Make a plan, but be okay if it changes. I'm a gal that loves to have a plan and know what's coming. A few months ago, I thought that Seattle was my forever home. That changed, and that's okay. Embracing change has allowed me to open myself up to so many experiences.
That being said, I'm adding to my Seattle bucket list! What recommendations do you have?