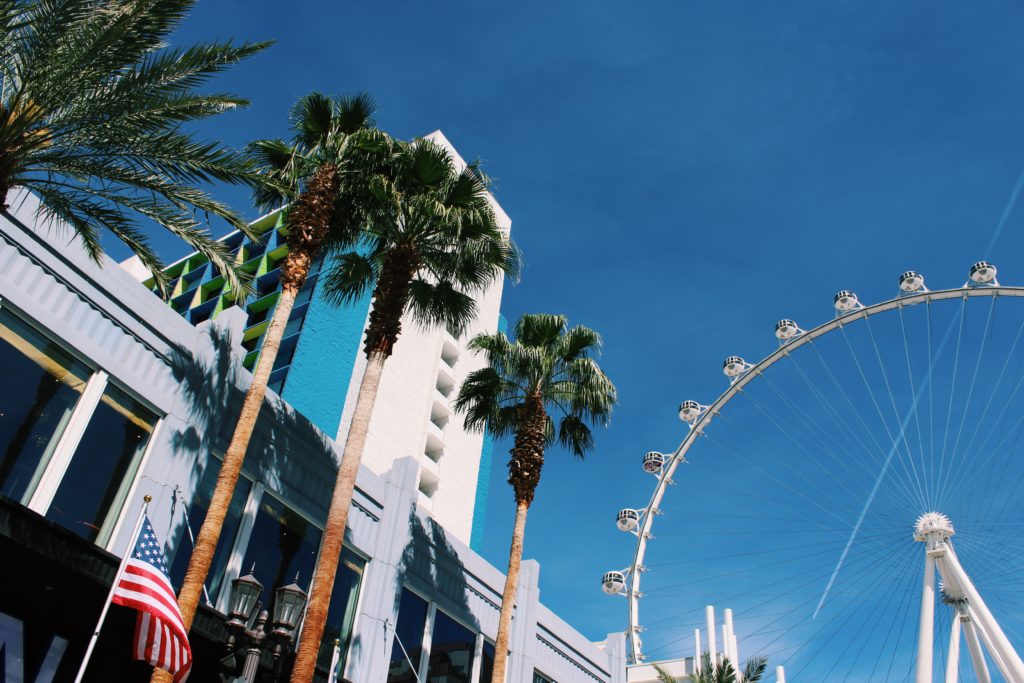 Welcome to the 36 Hours series. When I graduated from college, the days of endless vacation were over. Nowadays, for the most part of the year, my vacations are reduced to weekend getaways. And to be totally honest, I love it. It doesn't require taking vacation days, costs less, and makes you be super efficient with your time. This series follows my quick 36 hour adventures and shows you what I've learned, recommend, and what you should avoid!
Last weekend I headed to Vegas with my squad for a girls' weekend. It was a quick arrive Friday night, and leave Sunday afternoon type of thing. Here's a breakdown of what we did and what I recommend:
FRIDAY
If you're arriving on Friday after work like we did, that means you don't have much time to check in, eat, and get ready to head out to see one of the performing DJs. We checked into a suite at the Palazzo  – where we booked a suite with two queen beds for 4 of us. While a 5 star hotel, we booked early on Hotels.com and found a coupon code. It brought our cost down to $90/person/night. I think it is totally worth the investment. We loved the hotel, the great restaurants inside, and the fact that it was connected to the Venetian Canal Shoppes.
We grabbed a quick dinner at Sushisamba in the hotel (which I wouldn't exactly recommend) before getting ready to head out.
There are a lot of awesome performers, but make sure you do your research in advance to figure out who is performing where. Pro tip: contact a promoter to get you on the list for clubs and pool parties – they can save you major $$. But be sure to confirm what time you need to be there by – prices increase after a certain time. We decided that we wanted to see Calvin Harris at Omnia. It was super fun and being 5 ft away from Calvin was a dream. As far as when to arrive? Our promoter told us that every 30 minutes we were late after 10:30pm, we'd be stuck in line for another hour. The catch is that Calvin didn't go on until 2 AM, with the club closing at 4 AM. It was fun, but let's just say 1 night of that is more than enough, especially if you're on a time crunch.
Popular clubs: Omnia, XS, Hakkasan, Aria
SATURDAY
After some much needed sleep, we started our day with acai and orange juice at the Canyon Ranch Cafe. Located inside the Venetian's Spa, I think that you only have access to cafe if you stay in the Palazzo or Venetian (you may want to double check). Starting the morning with some power foods gave us the energy to get pumped for the day. Early afternoon was a great time to pop into some shops before getting ready for the pool party.
I think the pool party at Wet Republic was my favorite part of the weekend. There are tons of pool parties all over Vegas, all with different vibes depending on if you want something more relaxed or wild. This was the perfect combination of relaxing and fun. The music was amazing and it was nice to just tan and chat by the pool. These can get super pricey – thing $40-$60/person. That's where your promoter can help you get in for free or greatly reduce the price of entry.
Attire: They're pretty strict about what you can bring in, so make sure to travel light – phone, credit card/cash, ID – just the essentials. Also consider that you don't necessarily want to prance around in your bikini, so go for a kimono and shorts or a dress. Casinos and hotels won't let you walk around in just your swimsuit, so a coverup is absolutely necessary. I'm loving the one piece trend so that's what I wore with a button down dress over it.
Recommended Pool Parties: Wet Republic, Hard Rock Rehab, Encore Beach Club
Las Vegas is known for having some world class restaurants, so a nice dinner is a must (at least once!) We opted for the Lavo restaurant inside the Palazzo. It's modern Italian cuisine. Portion sizes are reasonable and it's fun to get a few plates for your table to sample. Tip: Make sure to make a reservation – unless you want to wait hours for a table. We called the Saturday morning, but consider calling the week before you leave for Vegas.
After dinner we decided to try to go see Alesso at XS which in my opinion was where in the future I would do things differently. I would opt for seeing one of Vegas' popular shows instead. We waited until the last minute to look for tickets and didn't find any. Le Reve is pretty popular from what others told us.
SUNDAY
Most hotels have you check out by 11 AM. So don't think you can snooze all day until your flight! We started with brunch at Bouchon in the Venetian. Let me tell you – this was my favorite meal of the entire weekend. They make their baked goods in house, and have the most adorable decor. Pro tip: call at least 24 hours before make a reservation. Request an outside table if the weather is nice. I was in love with the croissants and iced coffee (made in house!!). Pricing erred to the expensive side, but reasonable for the quantity of food and ambiance.
With the last few hours before the airport, we explored the Venetian, walked along the strip, checked out some shops, and discovered Linq Lane (a must visit).
We discovered Linq Lane while on the hunt for Sprinkles. The lane is perfect for an afternoon stroll and has all sorts of great places to eat, drink, and snack. (Sprinkles Cupcakes is located right next to a huge In-n-Out, which I was so excited about). While neither is from the area, being from California and living in Seattle, I had to have Sprinkles and my favorite burgers.
Before we knew it we were on the way to the airport and getting ready to board our flights. It was agreed that in 36 hours we covered almost everything on the list.
What's on your Vegas must-visit list?