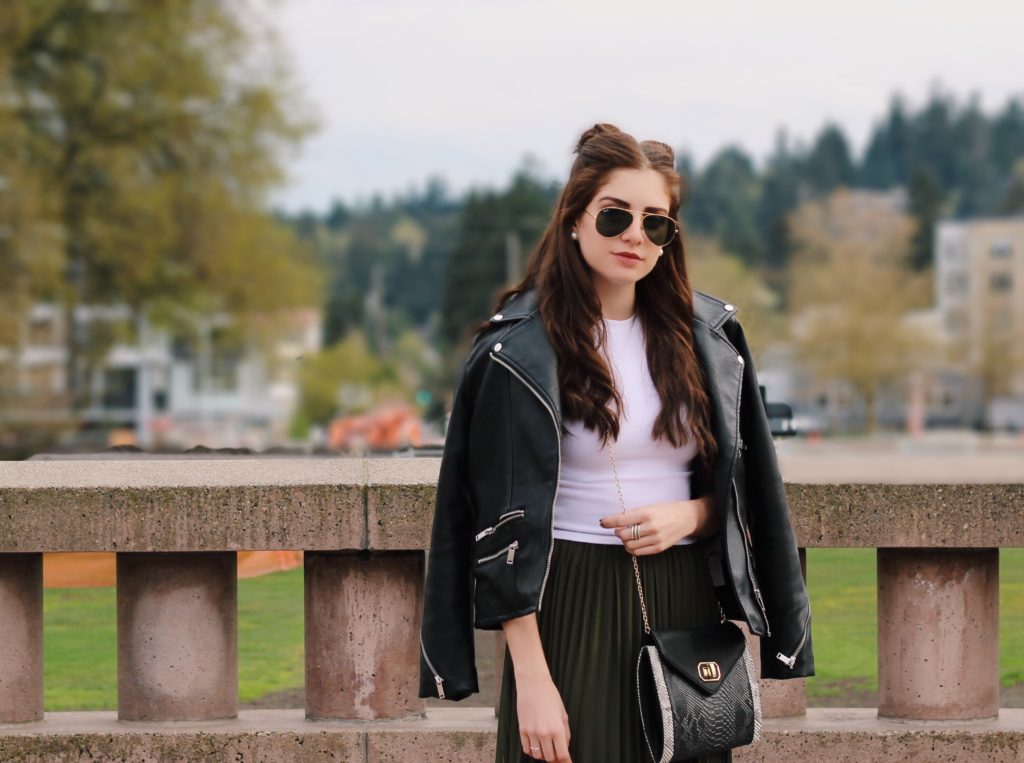 Hi babes, so remember when not too long ago I announced I was moving? (Like literally last week in a post you can read here) And before that, last October I talked about the good, the bad, and the ugly of moving to a new city? Well, this upcoming move, and the reoccurring question of, "Aren't you nervous to have to start over again?" got me thinking about the topic. And TBH I'm trying to think of it as continuing to grow my network, instead of being all negative nancy about it.
As college graduation season is nearly upon us, I thought I would get you thinking about how to prepare yourself for making new friends in a new city.
1 ) Y O U ' R E   N O T    T H E    V I C T I M
I'm going to start with this one because I distinctly remember my second week in Seattle, scrolling through Instagram and calling my best friend to cry about how I had no one to go to brunch with. (First world problems, I know.) But here's the thing. She listened, she felt bad for me, and then she told me to pull myself together. She also reminded me that in what version of reality is it normal to move and immediately have an entire social clique? After my second weekend of sitting at home and binge walking Netflix, I realized that I wasn't the victim here. If I wasn't meeting people, it was because I wasn't trying to fix the problem. I was looking at it from a college perspective where clubs and classes threw people together. As an adult, you need to be your own solution-maker, you can't expect people to solve things for you.
2 )  S T A R T   W I T H   W O R K
I put this one in here because it's so obvious, but it's one that we tend to forget about. Work is the closest thing you'll have to an organized activity where you have to meet people. After I stopped playing the victim, I realized that there were tons of likeminded people working at my company for me to have lunch / coffee / happy hour with. And seriously, all it takes is you introducing yourself and finding something in common. An added plus? You'll be growing your personal and professional network by spending some time bonding over that hot cup of joe. I actually have weekly coffee dates, shopping trips, and happy hours with coworkers that I know that I'll absolutely keep in contact with when I move.
3 ) Y O U   M E E T   P E O P L E   I N    U N E X P E C T E D    W A Y S
(Alt title, be open to conversation) When I was back in college I think I was what I'd call a "social hermit." I had in my opinion enough friends and wasn't exactly interested in expanding my group. So when it came to networking or being open to meeting people, I was pretty reserved. When I had to start all over, my entire mindset shifted. Before long I found myself having conversations with people in line at coffee shops or in the grocery store. One of my best friends in Seattle was actually my hairdresser, who after spending all of 5 hours on my hair decided to take me under her wing. So, work on improving that resting b**** face, and turn that frown upside down! A smile is the best conversation starter.
4 )  T A K E    U P   A   H O B B Y
I will be the first to tell you, when it comes to a social life, I would be basically no where without my blog. So many of my friends I have met through the blogger scene – whether it be photographers, influencers, or designers. If you don't have a hobby already, figure out what your passionate about. When I first moved I scoped out Meetups (which has a club for basically any hobby you can think of), and Bumble BFF. These are seriously the fastest ways to meet up with people that you share stuff in common with!
5 ) H A V E   A    S U P P O R T    S Y S T E M
I know I said at the beginning not to play the victim. But I think that inevitably, when you're starting from scratch, it's normal to occasionally feel a major sense of loneliness. I'll be totally transparent, I felt pretty lonely up until around November. That's almost 4 months of going through some tough days. I couldn't have done it without the support of my boyfriend and long distance friends that were there for me. So have a person or a few people that you know will make time for you when you're feeling down. It'll make all the difference.

I have been feeling some major spring/ summer vibes lately, and this maxi skirt from Shein and fitted tank just screams "BYE WINTER!" And in honor of the end of winter, Shein has a major sale going on right now and I'm stocking up on clothes for my upcoming trips! It's still a little cold in Seattle, so I threw on a leather jacket to stay warm and add a little edgy element.
| SHEIN Maxi Skirt c/o | ThredUP bag (similar) c/o | H&M Ribbed Tank | Zara leather jacket (similar) |
What are your tips for making friends in a new city?