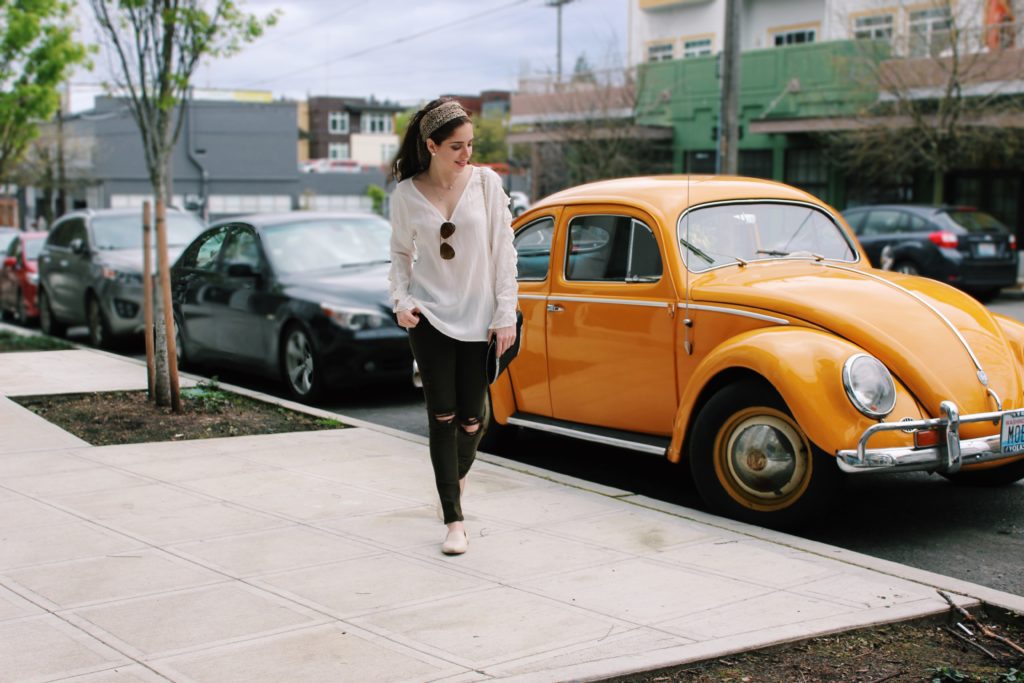 I've always loved the saying "Out with the old, In with the new." Maybe because I'm a shopaholic, but also because new is relative. I'm a big fan of filling my closet with a mixture of new and thrifted items because I love getting more bang for my buck! So when I saw this vintage VW parked in front of my house, I knew that it would be the perfect backdrop for my post.
Each season before I even think about shopping, I put on my comfiest sweats, throw my hair in a bun, and turn up the speakers up. Before you go shopping, here are a few tips that I live by when it comes to spring (or any season) cleaning:
 1) T A K E   I N V E N T O R Y
You can be as technical or as chill as you want with this step. For me, just looking at each piece individually refreshes my memory of what's there. For others it's easier to actually write down how many loafers they have, etc. If you're going to break your cleaning into multiple days, it might be better to note down a few things so you don't forget!
2) R E O R G A N I Z E   Y O U R   C L O S E T
Depending on my mood, I try to organize my closet by item type, or season. Typically, it's a little bit of both. I usually put all the outerwear in a section, exercise clothing in another, and then winter, and spring are separated. Re-organizing showed me that I had not one, not two, but three pairs of white jeans in the same cut. LOL #what?  Reorganizing allows you to figure out what you have for the upcoming season and what you might not need anymore.
3) C L E A R   I T   O U T
Alternate title: Take out all the pieces you don't want or don't need. There is nothing more satisfying than throwing clothes on the bed and emptying hangers. Usually this is where my room becomes a whirlwind of clothes, but it is so refreshing!
4) C R E A T E   P I L E S
Organize items into piles – keep, donate, sell. There are very few instances in which I think that it's ever okay to flat out throw clothing in the trash. The exception is when your items are so destroyed (think holes and tears in your shoes and clothes) that no one could possibly wear them.
Keep: If there is an item I'm on the fence about I tend to keep it for a little longer. I'll keep it for a few more weeks or months to see if I wear it. If not, it'll eventually make it's way out of my closet.
Sell: Thredup has an awesome program where they send you a bag and you just fill it with all the items you want to sell. You can also take your items to local shops like Buffalo Exchange or Crossroads!
Donate: The last category is for items that don't fall into the other two categories. They're still wearable but not keep-able or sell-able. I either like to bring my items to Goodwill or Value Village.
5 ) S H O P  ' T I L  Y O U   D R O P !
(First shop #secondhand , Second shop #new ) What I love about today's look is that it is a mixture of both new and old. Let's start with the old. I've been looking for a black interesting crossbody that would give me a little more space. I visited the ThredUp site first and discovered that they had a bag from MML that was two-tone and snakeskin style. Another item on my "to buy" list was a white tunic for spring & summer with some sort of interesting detail. I found this top on local Seattle boutique Jaleh's site and fell in love with the sleeves. I decided to size up to turn it from a blouse into a tunic.
Note: shopping 'til you drop doesn't mean filling up all the empty space! Remember the inventory you took? That will give you a good idea of what you need to add to the closet!
This post was created in collaboration with Thredup and Jaleh. All opinions are my own.