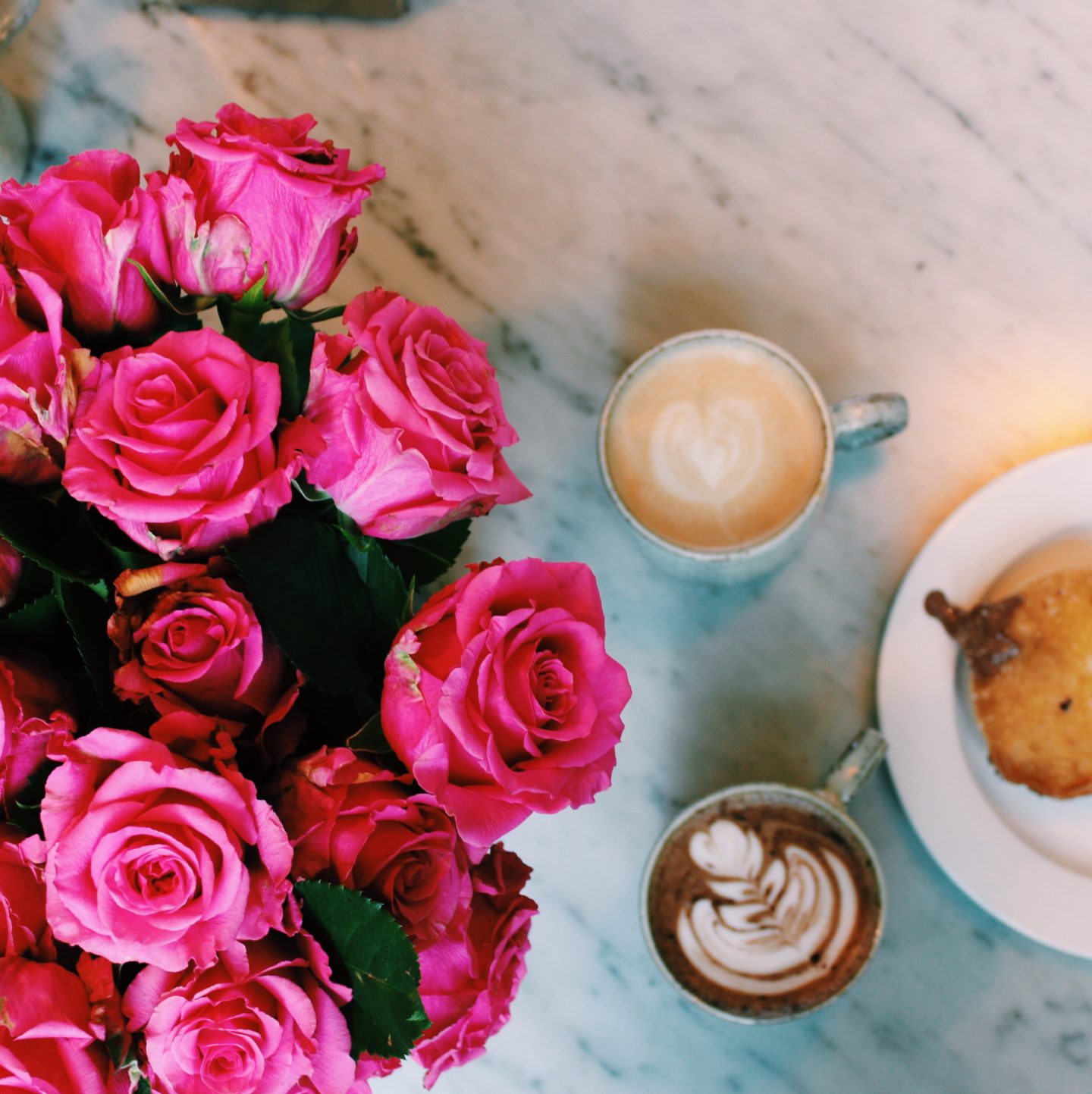 After moving to Seattle about 9 months ago, somehow I became the source of knowledge for a lot of friends visiting the area. "G, where is the best coffee?" And I gotta tell you, when I first moved, I was overwhelmed. Everywhere I turned there was a new coffee shop to try, and after a while they all started blending into each other. That's kinda what happens when there's a coffee shop on every corner (not including Starbuck's).
Being the SoCal girl that I am, finding the most Instagrammable spots was a big mission. Below are 5 places across the city that are sure to have your friends drooling over your Instagram feed.
MOORE COFFEE SHOP [ DOWNTOWN SEATTLE ]
I think that when I posted this photo from Moore Coffee to my Instagram, I had never gotten so many people say  "OMG WHERE IS THIS?!" Maybe because it's a tiny coffee shop with 3 tables downtown Seattle near Pike Place, and it's so easy to miss. No one really knew about i They're known for their latte art which is impressive to say the least. It's a great little spot to get warm on a chilly day, and far enough from all the Pike Place madness that you won't get overwhelmed. Each latte comes with a piece of chocolate (added bonus!).
GENERAL PORPOISE [ CAPITOL HILL ]
General Porpoise is a donut bakery meets coffee shop. Think your traditional coffee and donut combo, but with San Francisco/LA vibes. With marble tables, a PINK espresso machine, great lighting, fresh cut flowers, and of course, great coffee – it's begging for a feature on your IG feed. If you're feeling hungry afterwards, skip down the street to Bar Melusine for brunch, you will die with the green and white decor.
PRESERVE & GATHER [ GREENWOOD]
Preserve & Gather is a neighborhood coffee shop nestled in Greenwood. It's great because it diverges from the typical all white, marble-covered Seattle coffee shop aesthetic with its tiffany blue accent colors. It's very reminiscent of Breakfast at Tiffany's, with their gold & blue wall. It's a great spot to snap a few pics and chit chat with a friend. Instagram tip: I would rock a vintage-thrifted-style look for this backdrop.
STARBUCKS RESERVE ROASTERY [ CAPITOL HILL ]
I waffled over whether or not I wanted to include the Starbucks Roastery in my list. On one hand it's Starbucks. Big corporate coffee giant. But on the other hand, this location is actually pretty cool. They serve coffees not offered at any other locations. It's also pretty cool to see the beans being roasted. Note: the lighting at the bar is frustrating to say the least, so do yourself a favor and and try to get a cozy seat by the window for the perfect IG shot. Other note, it gets crazy busy, so try to get there earlier in the AM to not feel like an overwhelmed adult at Disneyland.
SLATE COFFEE [ UNIVERSITY DISTRICT ]
Slate Coffee is a minimalist's dream. Think lots of natural lighting, white backgrounds, and industrial architecture. Tip: Visit in the afternoon during the week and the shop is pretty empty – and of course perfect for making it a mini photoshoot studio!
I am always on the hunt for more coffee shops to try. What would make your list?