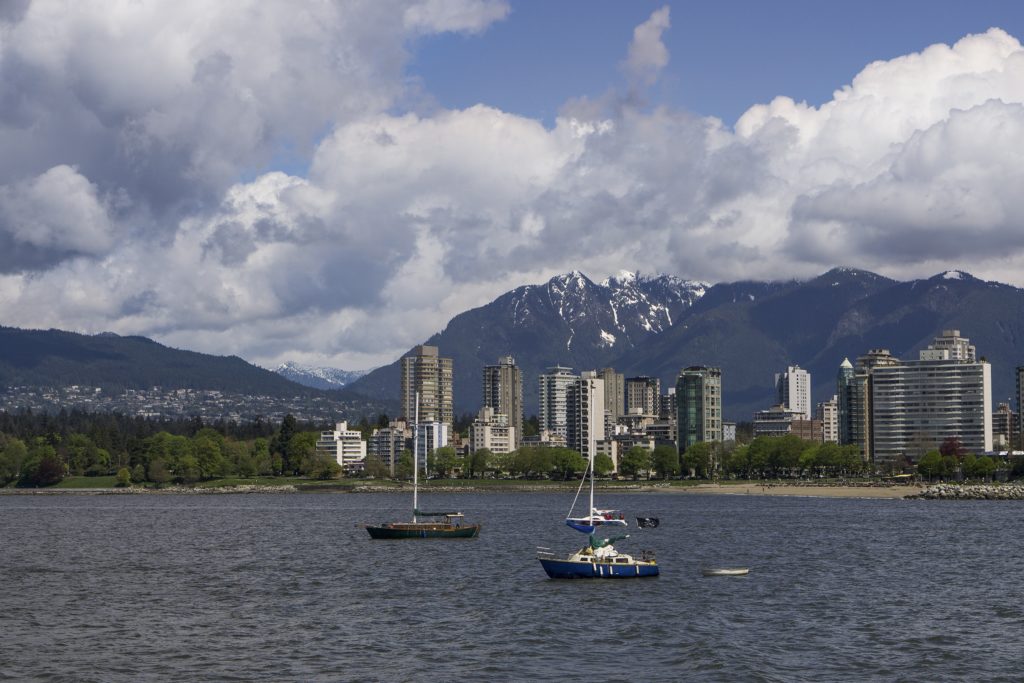 Welcome back to the "36 Hours" Series where I'm sharing how to make the most out of your weekend getaway. Last weekend I headed to Vancouver with some friends that were visiting from San Diego. I've been to Vancouver quite a few times, but this latest trip was my favorite. Not only was the weather great, but we did so much in very little time.
[ Day 1] 
Start: Kitsilano Beach
We left Seattle early in the AM without eating breakfast, so the first stop was Olive & Ruby Cafe for coffee and avo toast. This little spot is so trendy – right down to the egg chairs and the plants hanging on the walls. The cafe also serves bowls (Acai, granola), and smoothies.
The next stop was the Kitsilano Beach Park for a walk along the beach and GORGEOUS views. If you're a runner, this is also a great place to go for a run before you head into the city. For those of you who aren't all that sporty (like moi), it was a great look out point for pics.
2nd Stop: Granville Island
We then drove a quick 10-minutes to Granville Island who's public market is Vancouver's version of Seattle's Pike Place. I never get tired of walking around and grabbing a snack to keep me going. (My recommendation is to try Pecan Butter Tarts which are Canada classics). This is also a great lunch option since you can find everything from Greek food to Pizza.
3rd stop: Aquabus to Yaletown
A local told us about the Aquabuses that you can take all over the city. It's a great form of transportation, especially if the weather is nice! We took the Aquabus from Granville Island to Yaletown, which cost us about $5 each one way. I hate to admit it, but one of the big reasons I wanted to visit Yaletown was the mural outside of the Opus Hotel. There are all sorts of great shops and restaurants in the area to check out too.
4th Stop: Robson St.
Robson St. is hands down my favorite place in all of Vancouver (maybe because of the fabulous shopping and the Laduree). We spent the afternoon on Robson and started with tea and macaroons at Laduree. I highly recommend doing their high tea if you have time (and the appetite)!
Robson also is home to high-end shops like Gucci and Burberry, as well as trendy spots like Zara and Aritzia. Our Airbnb was actually right off Robson, which I highly recommend for being centrally located.
5th Stop: Dinner in Gastown
We were pretty exhausted by the time dinner time rolled around so we kept things casual. But for dinner and drinks, Gastown is absolutely popping. I kind of wished we had gotten there during the day, but the night vibe was pretty nice as well.
[ Day 2 ]
1st Stop: Pre-Breakfast at Thierry
Thierry Cafe off of Robson is well-known for their French desserts. We decided that on our way home we wanted to stop in Richmond for Dim Sum, so Thierry was great to kick start our day with a light breakfast.
2nd stop: Stanley Park
Stanley Park is huge and gorgeous. Unfortunately with a marathon happening on Sunday morning, we weren't able to get to the Seawall. If you're outdoorsy, you can rent a bike to cover more ground in the park. You can also go for a morning walk and just enjoy the nature.
3rd Stop: Richmond
I learned from some friends that live in Vancouver that if you're a dim sum fanatic, skip Chinatown and opt for Richmond. If you're driving back to Seattle, this is a good strategic option as your last meal before heading back to the US. We went to Fisherman's Terrace Seafood Restaurant which while not very highly rated on Yelp, was AMAZING. My Chinese friends in Vancouver swear by it. Not only was the food amazing, but it was super reasonably priced (About $10/person). We were Seattle bound by 2PM.
What are your Vancouver recommendations?