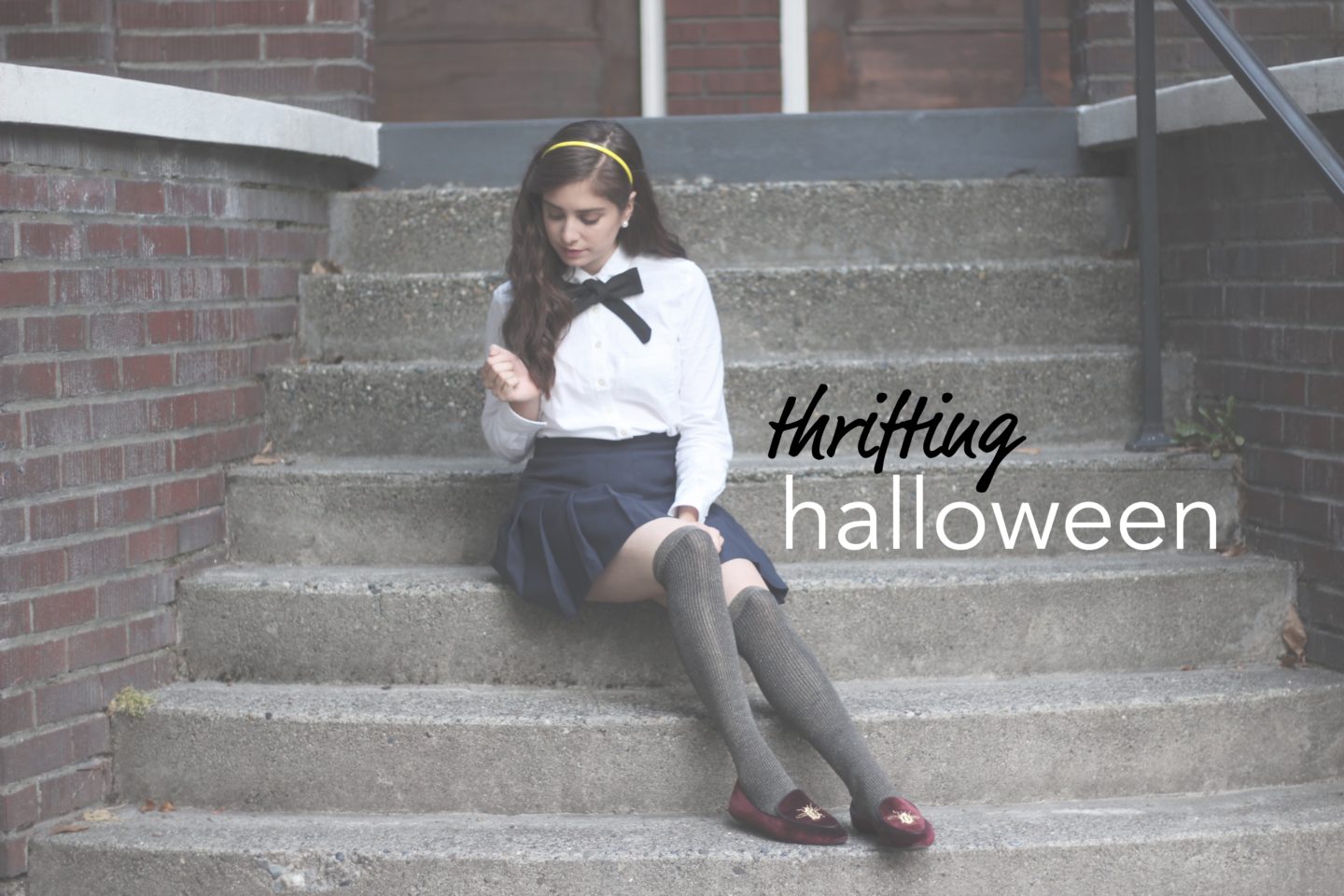 Hi G-fam! Today I've partnered with Value Village to share with you some thrifting tips for getting your Halloween costume on a budget. Hint: I spent under $25 for a costume and made it out of clothes I can reuse later in the year.
We are exactly 27 days away from Halloween. And if you're like me, you don't want to leave finding a costume until the last minute.  When it comes to Halloween, I remember growing up I used to spend $50 or more dollars on a costume that I would wear once! Looking back that was c-r-a-z-y. I wizened up last year when I visited Value Village to thrift my Agnes from Despicable Me costume. That's why it was perfect when they reached out to work with me this Halloween! Without further ado, let's hop into the tips.
Thrifting Tips for Creating your Halloween Costume
1. Get pin-spired
I spent the week before my trip to Value Village on Pinterest coming up with a few ideas. (You can visit my board here). You never know what you may or may not find! I made sure to save quite a few photos to my phone to look at while I was shopping. I narrowed down my costume to two concepts – Blair Waldorf from Gossip Girl and Velma from Scooby Doo. You can probably tell who won!
2. Shop your Closet
Before you head out, make sure to take inventory of what you have in your closet. Put aside items that "work" and those that "could work but aren't perfect." I had these loafers in my closet that seemed very Blair but weren't exactly like the photo. I put them in the "could work" pile. The over the knee tights I also had at home. (However, I did see some brand new ones in the store for under $3!)
3. Set a budget
I set a basic budget for my Halloween costume – under $30. I didn't let my budget limit me – I still tried on a few items that would have put me over that $30 mark in case they were absolute must-haves. A plus about choosing a costume with pieces you can re-wear? You can go for the quality items that might cost a little extra.  This was why I would have potentially been comfortable spending more.
4. Make the whole store your playground
Value Village has an amazing and huge Halloween section with decor items, costumes, and more. But don't limit yourself to one corner of the store. Make the whole store your thrifting playground. Last year I found the shirt for my costume in the men's section and the unicorn I needed in the children's section. This year was a little more tame – I only ventured out of the women's section to find a skinny tie in the men's section. But the point is scour the entire store.
5. Check different sizes
Now, ideally you want to find some thing that is the perfect fit. That way you can comfortably re-wear it later in the year. But for some costumes or elements of your costume that may not make sense or you may not want to. In that case don't be afraid to check different sizes. For example – I visited the kids 14+ section since I'm on the petite side to see if there was a uniform skirt. Don't be afraid to size up because you can do a little DIY… which leads to my next point.
6. Don't be afraid to DIY
I'm not someone that knows how to sew or do anything fancy when it comes to DIYs. Don't be afraid to get handy with scissors, or pins, or a glue gun. Last year I found a shirt for my costume that was the perfect print. Unfortunately it was a men's large. I cut it up and it suddenly became the perfect crop for my Agnes shirt. This year? My DIY consisted of finding a men's skinny tie and cutting it so that I could make an even bow.
For more thrifting tips, read my post "5 Tips for Surviving Thrift Shopping." 
About My Costume: 
I picked up the headband, skirt, blouse, and tie at Value Village. As stated earlier, I had the socks and loafers at home. As an avid thrifted, I always love knowing the exact dets of peoples' finds. So if you're like me keep reading. The skirt was American Apparel for $9.49, the tie was $3.99, the blouse was GAP for $7.99, and the headband was $1. That rings in at $22.47 and the best part? 2 of the 4 items I will re-wear in the future!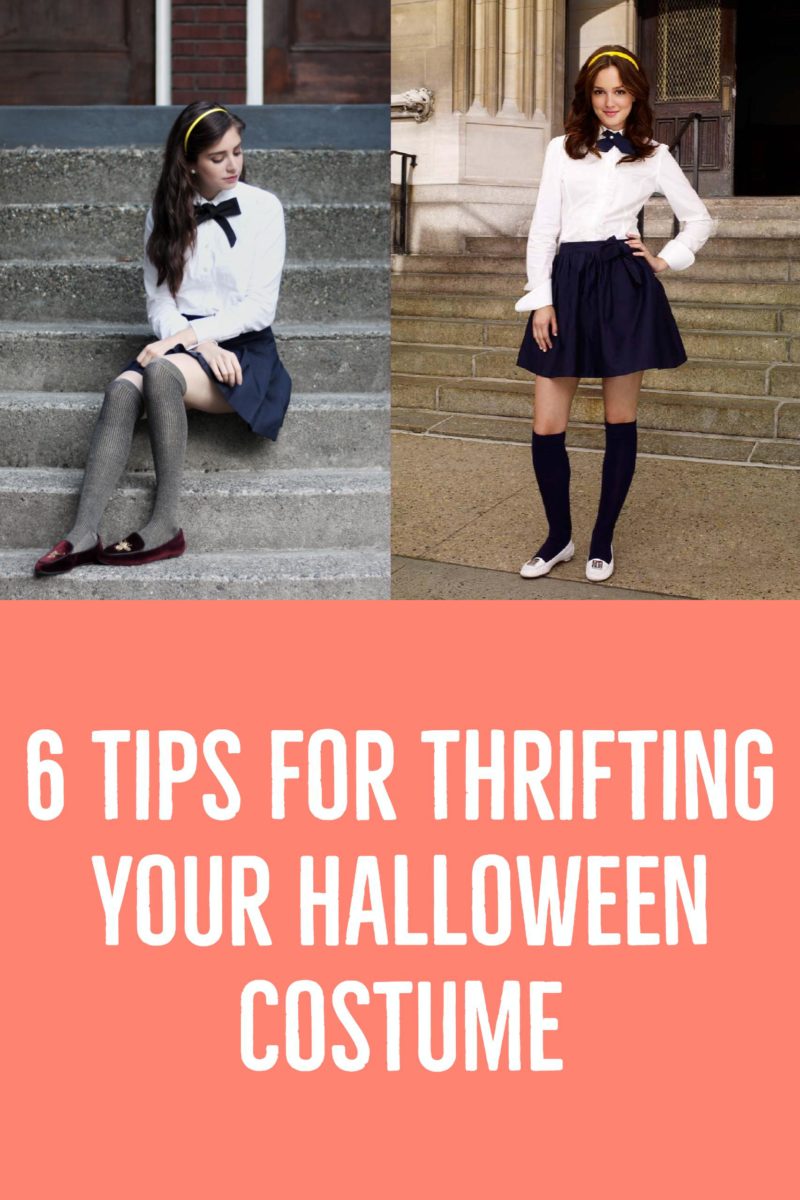 What are you dressing up as for Halloween this year?

Disclaimer: Value Village graciously sponsored this post, however all thoughts are my own and 100% authentic as is always promised on Palm Trees & Pellegrino.