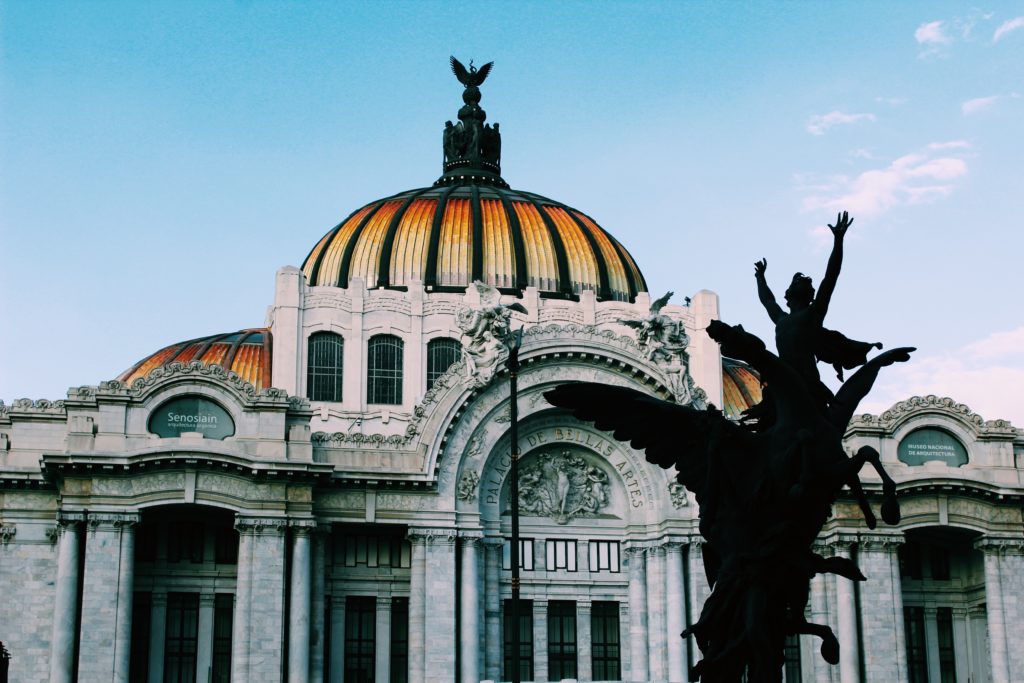 Happy New Year! I'm back in Seattle after a whirlwind vacation who's locations included San Diego, Los Angeles, and finally, Mexico City.
One of my best friend's and I spent a week touristing around the city, and while I definitely don't feel like an expert, I wanted to put together my guide on tips for touristing, accommodations, food, and more! I'm making this a two part series – where the next post will discuss fashion.

WHERE TO STAY:
La Condesa- Mexico City's 'Soho'
We stayed in La Condesa, a chic and bohemian neighborhood full of adorable bakeries, restaurants, bars, and coffee shops. It definitely felt safe walking around and you get a feel for some Mexican architecture through the brightly colored buildings. We stayed with family, but it's easy to find a chic Airbnb or stay at one of their boutique hotels.
Polanco- Mexico City's 'Beverly Hills'
Polanco is where you'll find Gucci, who is next to Hermes, who is next to Louis Vuitton (you get where I'm going with this). It's a beautiful area with some high end restaurants and shops. However, it is much more industrial looking, so really you could have picked up the area and dropped it into LA and it would have blended right in. Totally safe, but in my opinion lacks the charm of La Condesa. There are a wide variety of hotels- Hyatt, the W, etc or you could once again try the Airbnb route.
SHOPPING:
For silver: Mexico is known for having great quality silver at reasonable prices. Head over to the Mercado Insurgentes de Artesanias y Plateria for some unique and reasonable prices. Just don't forget to negotiate! It's located in Zona Rosa near the Angel of Independence. 
For gold: The area of Zócalo in the downtown is where you'll find shop after shop of gold jewelry. It's a little overwhelming, but you will find some good quality gold at reasonable prices. I'm not super into the gold scene, but they had a lot of Tiffany's, BVLGARI and Cartier replicas. So if you're looking for something really unique you may have to really scope it out.
Luxury Shopping: If you're coming from the US, the exchange rate is amazing right now. You can save 15-20% on luxury goods. Head over to Avenida Presidente Masaryk in Polanco for all your high end needs. While you're there, stop for Starbucks. The one on that street is three levels and adorable for a wifi and coffee break.
General shopping: I was looking forward to checking out Massimo Dutti, Bershka, and Pull & Bear (Part of the Zara fam) which we don't have in the US. Antara, also in Polanco is just a must-visit mall. They have all your basic brands but let's just say for the Christmas season they had fake snow falling, and lights everywhere! It's worth a visit just to walk around even if you don't want to buy anything.
SIGHTSEEING
Teotihuacan & Xochimilco
Before heading to CDMX, we booked two tours through 'Amigo Tours' to visit the Teotihuacan Pyramids and the water town of Xochimilco. These two sites are must visits and I would highly recommend a tour since they're outside of the city and hard to get to. That being said, we both agreed that we probably wouldn't use that tour company again. The tours were around $50 per person which wasn't too bad. However, we were brought to pre-determined lunch locations where we had to pay separately without being warned.
GENERAL CITY TOURISTING:
Everyone always talks about how big CDMX is, but it doesn't quite set in until you're landing and realizing there's no way that you can actually get to all the sites by just using a taxi or uber.
We took a 'hop on, hop off' bus that I 100% recommend. The company is called 'Turibus' and they have double decker buses that take you all over the city while explaining the history. There are four routes- Basilica, Center, Polanco, and South. Tickets are 140 pesos or about $7 US for the entire day. If you book two days, you get a 10 peso discount. We used this two days and it was a great way to see the city. You could even spend 4 days – one for each route if you wanted to get off at more stops.
FOOD:
I'm compiling a few of our favorite spots that are worth visiting. Disclaimer: there are tons of great places to eat in the city and we didn't get to a lot of them due to constantly being on the go. (We had a lot of snacks that we would pick up at the bakery in the morning to hold us over since a lot of tourist areas have questionable food- we had some pretty awful tacos in the Zócalo area) But if you happen to be in these neighborhoods- check these out!
Street food:
I loved the cut up mangos and coconut stands all over the city. There are also cards with fresh juice. While we loved it, it can be risky since the cleanliness factor is questionable. There are also a lot of carts with tacos, I would avoid that since you don't know how the meat is handled. If you want some awesome tacos, but are afraid of street food, just keep an eye out for the hole in the wall joints that look like a lot of locals are at.
GENERAL TIPS:
Getting around the city: NEVER just hop in a taxi, we are not in New York City. Taxis use a meter and if you're a tourist they might take you the long way around and charge you more.
Taxis de sitio: these are taxis you can call and they will tell you a flat rate for getting from point A to point B. These are a lot better option than just a normal taxi.
Uber: if you have your data on, this would be the BEST option. You can check out your driver, see the route he is taking, and track your status to your destination. These tend to be cheaper than a normal taxi as well.
Private drivers: you could also contract a private driver through a company but this can be more logistically complicated if you're walking around and don't have a set agenda.
Money exchange: In the main tourist areas, there are "Casas de Cambio" (Money Exchange). Their rate is much better than the airport's. I would recommend changing around 50$ before you head into the city (even if it's at the airport) since you do NOT want to be stuck without pesos. Many places don't take US dollars or credit cards.
Medication: Even if you just stick to nice restaurants, you never know how your body will react. Take Advil and anti-diheria pills with you just in case!
Safety: Like any big city in the world, be aware of pick pockets and muggers (is that a word?!) Take some precautions- don't be opening paper maps in public (there are downloadable map apps that use no data that are discreet), don't be carrying your big camera around your neck, and be aware of when you open and close your bag. Just be aware of your surroundings because you don't know what could happen!
I know this was pretty long but I wanted to be very detailed! In my next post I'll be discussing the specifics of my touristing and the must-visit sites!