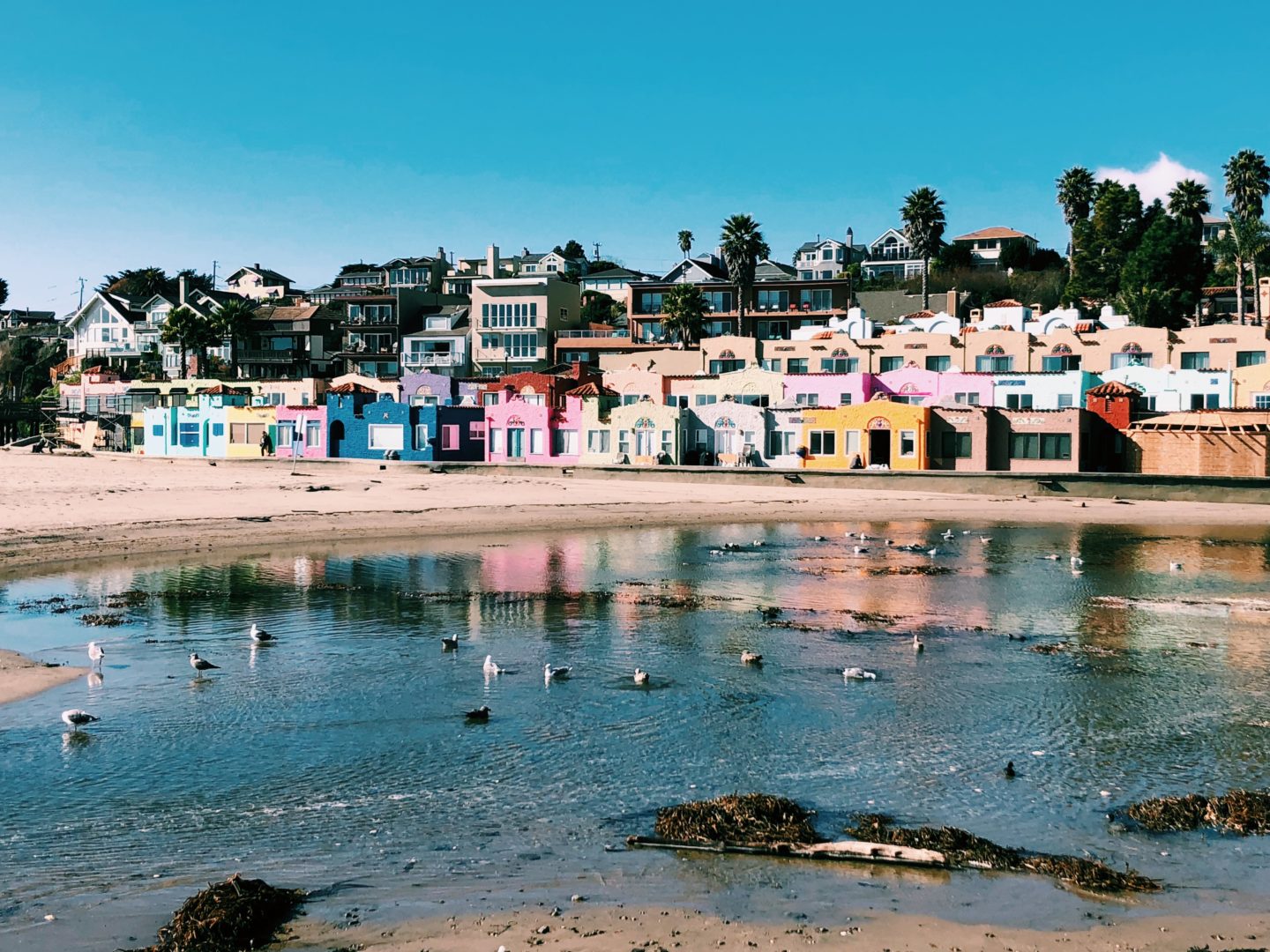 Capitola, CA is a small beachside community within the city of Santa Cruz. While Santa Cruz is often mentioned in connection to the university (University of California at Santa Cruz) and for being the closest beach to the San Jose / Silicon Valley area, Capitola is a different story. Capitola wasn't somewhere I'd ever heard of before until I noticed an image while scrolling through my Instagram feed. Capitola is totally quaint, quirky, and a great day trip from San Jose or San Francisco.
Note: this guide shares a schedule for an ideal day in Capitola. Looking for something more extensive? Visit blogger Becca Risa Luna's full post on where to eat, drink, stay, and visit.
Start the day at Verve Coffee 
Anyone from the Santa Cruz area will tell you that Verve is a 100% must visit. There are multiple locations, but the one you want to visit is in Capitola – 816 41st Ave, Santa Cruz, CA 95062. Grab a pastry (we loved their take on a chocolate chip cookie) and a coffee to go before heading towards an area known as "The Hook." You can get there by taking 41st street south going towards the water.
Visit "The Hook" and walk along the cliffs 
On a weekend you'll see plenty of surfers and people walking the dogs. There are plenty of benches and grassy areas to sit and sip on your coffee and enjoy your pastry while looking out at the water. Tip: make sure you bring a scarf! With the wind blowing in from the water, you'll definitely feel a little cold in the winter months.
Head to Capitola State Beach
The homes on Capitola State Beach are completely picturesque and quaint. You can park in the small downtown filled with shops and restaurants. While we didn't have lunch in the downtown, you can pop in and out of the shops. Lots of people were also sitting on the beach eating pizza from "Pizza My Heart." (Yelp gives them 4 stars so there's that). After enjoying the views from afar, you can then walk towards the homes by following the sidewalk uphill. That way you don't want to trek through the sand.
The walls of the homes make for great photo ops. While we walked through you could see an Instagram boyfriend or two snapping pics of their girlfriends.
If you keep walking you can also see the Capitola Wharf and hang out on the beach under the pier.
Lunch at The Crow's Nest
I like the location of The Crow's Nest because you're changing up your view of the water for a third time. You're also officially in Santa Cruz and on the edge of Ukulele Beach. While the food is slightly overpriced, you have a nice view of the water and the lighthouse. Think American seafood restaurant. After lunch you can go for a walk along the water and check out the docked boats.
Optional: Stop in Santa Cruz
As an optional final activity, on your way home you can stop in Santa Cruz and walk along the boardwalk (if you're not tired of walking yet!). It's a good spot to grab an ice cream while you walk! There are quite a few spots to choose from.
We're currently planning our next day trip. What are your favorite spots?
Looking for more travel ideas? Visit the "Wanderlust" section on the blog.