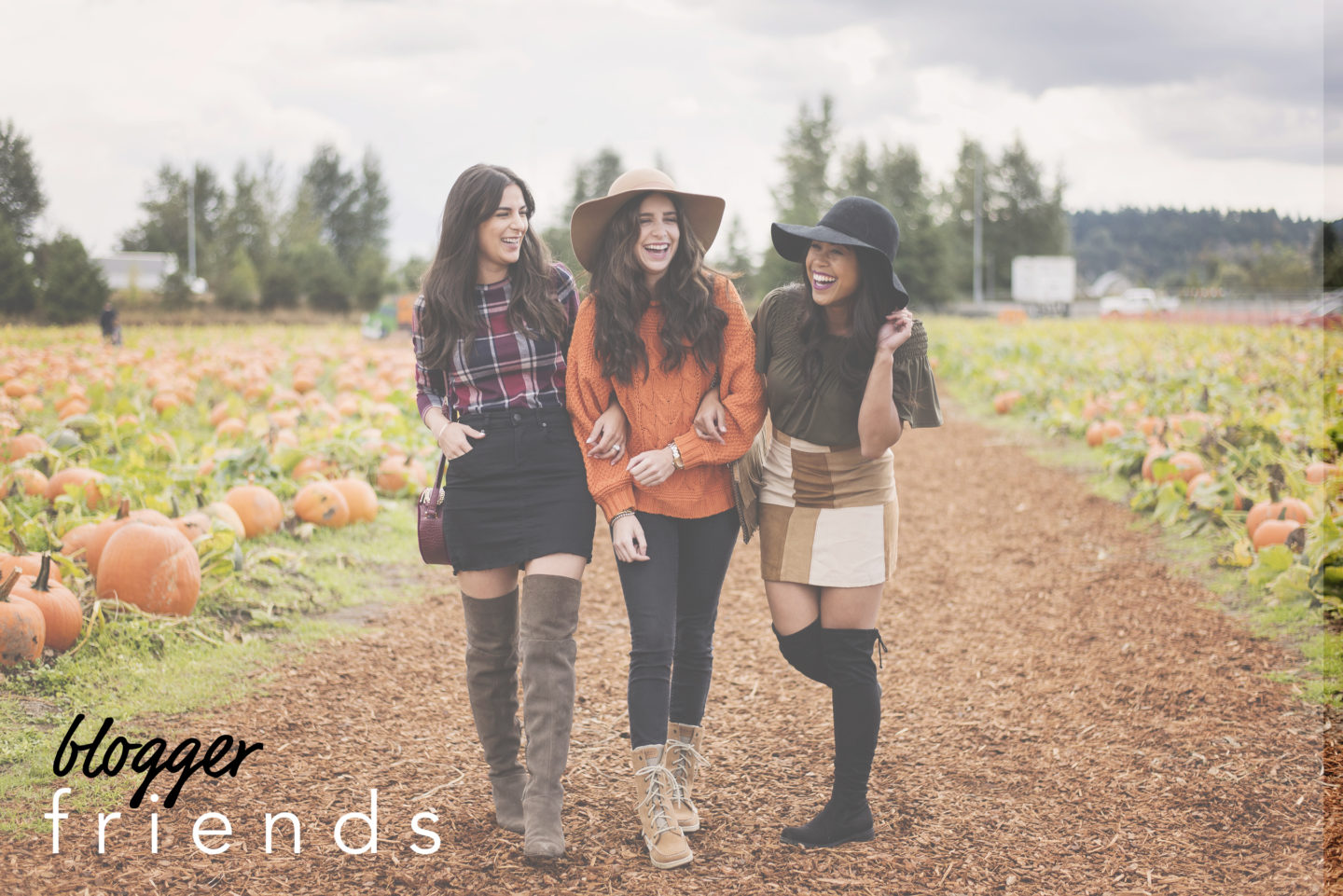 Hi lovelies! Recently I got together with three of my favorites in the Seattle blogging community – Mare (marellenmadayag.com) , Emma (emmasedition.com), and Karya (karyaschanilec.com) for a fall themed shoot.  We visited the Carpinito Pumpkin Patch in Kent, WA for some pumpkin picking and fun photos! This shoot was particularly special to me for a few reasons. 1) I love fall and visiting pumpkin farms. 2) I was surrounded by my favorite Seattle friends. And 3) this will be one of my last (and greatest) Seattle memories.
This post is also special to me because this time last year I had a major meltdown. I called my boyfriend on the phone and crying that I felt completely alone.  I was three months into being in Seattle and hadn't made any friends that I didn't know from college or work.  The thing is – I know now I wasn't alone in this feeling. I see it on Instagram all the time – new bloggers feel left out of the community or don't know how to break into the industry. Or let's make it even simpler: we all know the feeling of being new/alone and not knowing what exactly to do about it. Luckily, a year later, things are completely different. I'm moving back to California with some amazing friends that I know I'll be keeping in contact with.
It was also around this time last year that I was invited to my first blogger event. That was step one in making blogger friends. A month after that Mare reached out to me via Instagram for coffee. And a few months after that, Karya reached out to see if I wanted to collaborate on a blog post. Emma and I finally briefly met at an event earlier this year and I followed up to get coffee. Now? They're some of my closest friends in the PNW. I feel incredibly blessed to know such amazing women.
While getting ready for this shoot, we started discussing the topic of the blogging community and making blogger friends. While we all feel that we've made some lasting friends, we agreed that a lot of frustration has been all over Instagram about the topic of friends. So today each of us will be answering the question:
"What is one tip you would share with a blogger that is looking to make friends in the blogging community?"
Marellen Madayag, Travel & Style Blogger, marellenmadayag.com
Step out of your comfort zone.
Don't be afraid to step out of your comfort zone and directly reach out to a fellow blogger whom you're interested in meeting over coffee. They will be just as flattered to receive a message from you as you are to meet them. Go on, put yourself out there!
Giulia Dugo, Career & Style Blogger, palmtreesandpellegrino.com
It's quality over quantity.
Oh hey friends, me again. It's my turn to share my tip! I think it's so easy to get caught up in the numbers game online AND in real life. When we're excluded from a brunch or not invited to an event it is only normal to feel left out. But for me it's about two reminders. 1) It's about the quality of the relationships you have, not the quantity. 2) Not everyone in the blogging community will be your BFF, and that's okay. Wherever you are you're part of a community and that community has people with different interests and personalities. You'll find your BFFs and whether that's 1 person or 10 it's okay!
Emma Cortes, Lifestyle Blogger, emmasedition.com
Attend events.
A great way to network and meet more friends is to go to events. Instead of scrolling through my phone, I usually try to make a friend with whoever is seated next to me. I'd encourage you to turn to your neighbor and simply ask "Hi I'm (name), what's your name?" And then your second question, "what brought you to the event today?". These two simple questions can lead to a whole conversation! If you vibe with the person you're talking to, don't be afraid to ask to grab coffee to talk about fashion or blogging.
Karya Schanilec, Seattle Photographer & Blogger, karyaschanilec.com
Give a compliment. 
Don't be afraid to DM someone to compliment their outfit or that you also love that show they're watching – you never know what connections you'll make that way!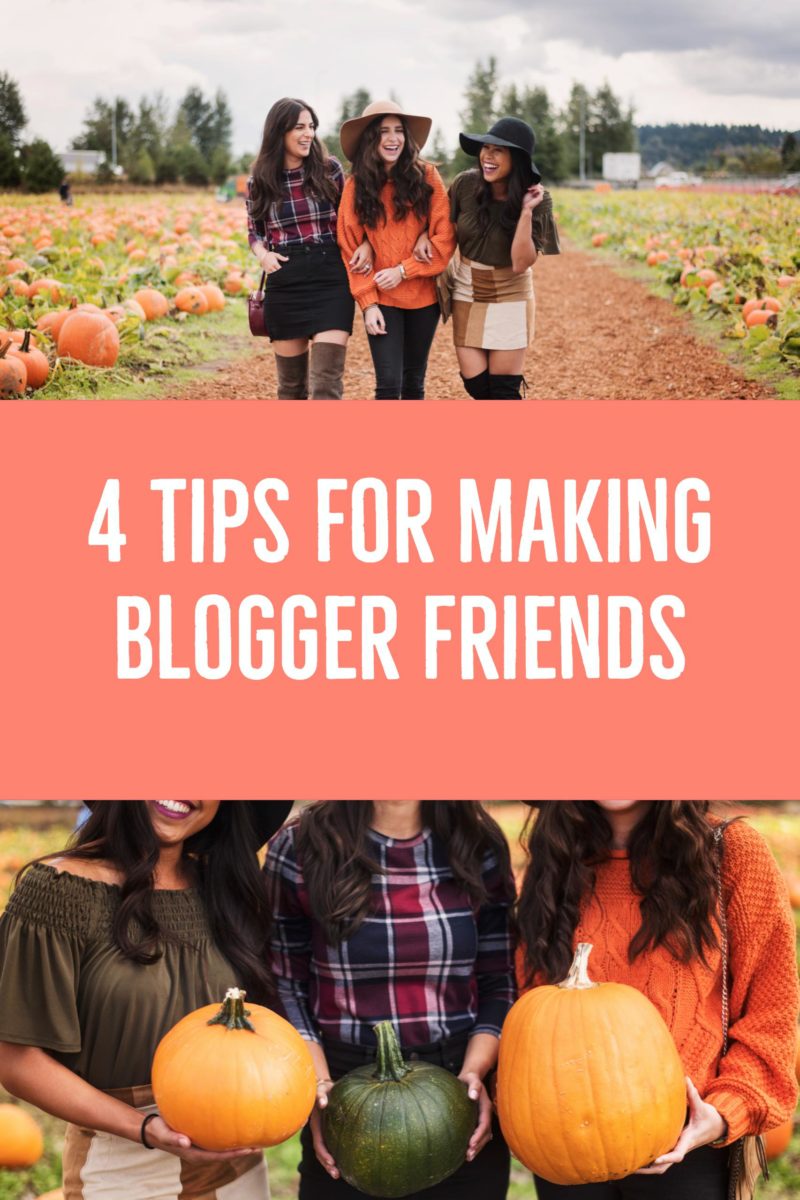 Are you a blogger? What has your experience been in your blogging community?