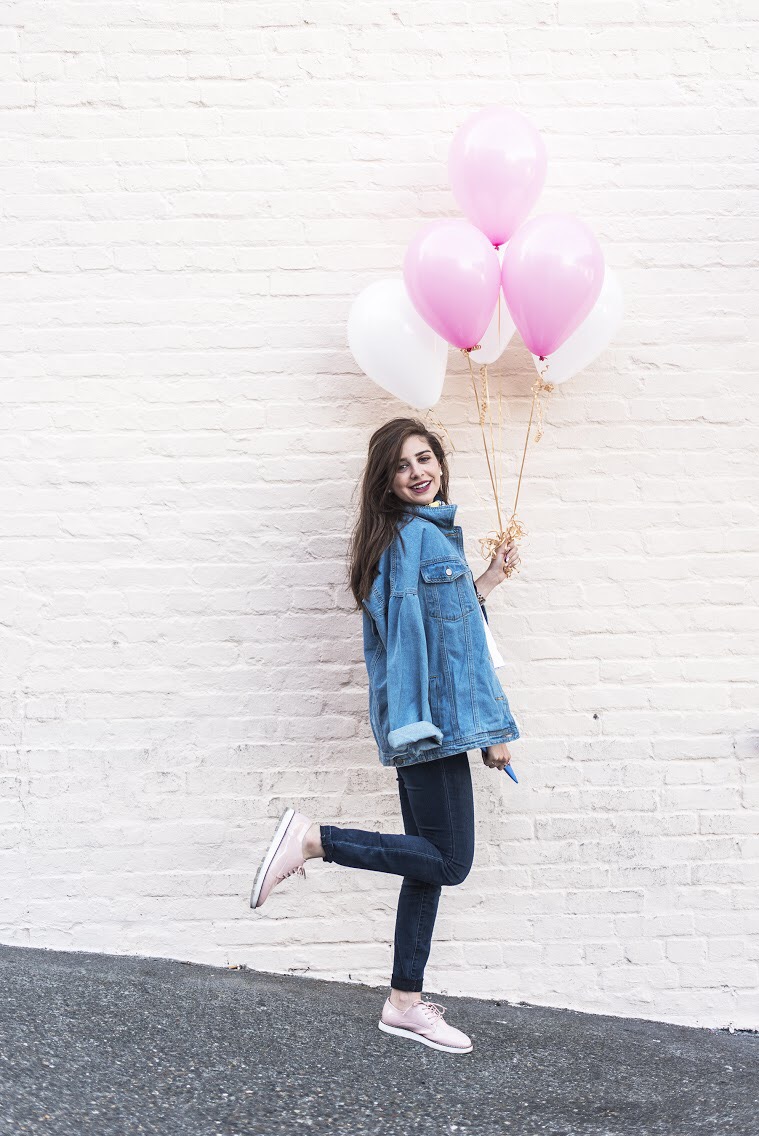 On July 15th I celebrated two big things – 1) my year anniversary of being in Seattle & 2) my first year of taking blogging seriously.
It felt a lot like celebrating a birthday (hence the balloons). And like a birthday it was bitter sweet – just like you're excited to celebrate the day, you're sad to have gained another year in life.
So today I'm sharing 12 lessons that I learned in my first year out of college – and I think they not only apply to blogging, but personal life, and professional life.
Lesson 1: You'll know who your real friends are.
School throws people together. A lot of those friendships tend to be out of convenience based on class schedules or organizations. From all my years of schooling, I can count on my fingers how many of the people I was "friends" with that I still talk to.
Changing zip codes makes you realize who your real friends are. Your real friends are the people that love and want you despite the inconvenience of separation. They may not talk to you everyday, but when you do it's as if nothing has changed. They're the people that despite distance will drop what they're doing to talk to you if you need them.
Lesson 2: Life is too short to want people who don't want you.
I'm not sure what triggered this realization this past year (because I wish I'd realized this in college). Maybe it was how often I'd have conversations with friends that would be incredibly upset about break ups (with bfs/gfs/ friends). It dawned on me how many people there are in the world. I'll be the first to tell you that when friendships would fall apart for me, I'd chase after the ex-friends and try to make things work. Looking back, I regret being that way. Not only was it embarrassing, but I was disrespecting myself.
Despite what others might think – you're special – and life is too short to spend time (or chase) people that can't see that. Their loss is your gain.
Lesson 3: Being alone is okay (and needed).
I was the only child that had the busiest social agenda that you could think of. That meant that I didn't have a lot of "me" time growing up. That carried on into adulthood where growing up in San Diego meant that I never had to do anything alone. (Even for running errands or grocery shopping I'd find a friend to come with me).
Moving to a new city was one of the hardest things I've ever done because it taught me to be independent. As I mentioned in my post on "Moving to a New City: the good, the bad, and the ugly" – I came to Seattle not knowing how to be alone. Nowadays I love my "me time." Forcing yourself to just be with yourself means time to be introspective and work on yourself.
Lesson 4: Embrace the unexpected – make room for change.
Senior year of college, when I was envisioning where I would end up, Seattle wasn't even remotely on my radar. (Probably because Californians have what I like to call the 'California Syndrome,' we tend to forget about everywhere else). But when the opportunity to move to Seattle came along, I embraced it. It was a new adventure for me to go on. As scary as it was, I made room for change.
A year later, the same sort of situation came along. Last July, as I was busy picking out furniture for my new Seattle apartment, I never would have imagined that a year later I would be researching neighborhoods in San Jose. But learning to embrace the unexpected has meant that I'm excited to turn every new corner of my life. It's made me a lot more comfortable thinking about the "unknowns of the future."
Lesson 5: It's okay to ask for help.
When I first moved to Seattle, because I was new to the city and didn't know anyone, I assumed that I had to do everything myself. I thought that asking anyone for help (especially new acquaintances) would show me as weak and incapable. I soon realized that 1) I couldn't do everything myself and that 2) In most cases people are happy to help when they can.
Funny story time. I traveled with my dog for the first time from Seattle to San Diego around Christmas time. Needless to say it was probably the worst flying experience of my life. I was at the airport, Kiwi (my dog) wouldn't stop crying, I was getting a migraine because I hadn't had time to get coffee, and my back was in so much pain from carrying him and my extremely heavy bag around that I was ready to start crying at the gate. He finally calmed down, and of course I wasn't about to move him again. I asked the stranger next to me if they'd be willing to get me a Starbuck's (and of course I'd get theirs too) due to the situation. They were more than happy to help and I was beyond appreciative.
Moral of the story, sometime you need to rely on your family and friends (and sometimes even strangers). No need to go crazy trying to do everything yourself.
Lesson 6: Saying no means more than saying yes.
This one primarily applies to blogging, but I think that it can also be applied to life. I talked about this in a recent post on "how to know if a brand collaboration is right for you." To summarize,
The collaborations you don't accept say more about you than the ones you do accept.

We can all agree that receiving "free" items (I would argue that they're not actually free considering all the hard work that goes into photographing, styling, etc. is a pretty big commitment, but that's a discussion for another time) is pretty cool, we can't accept every offer that comes our way.
Being the "Yes Man" doesn't always benefit us in the long run (in blogging and life). That list of nos to me shows a lot more about personality/morals/etc. than the list of yeses.
Lesson 7: You're stronger than you think you are.
I'm not sure how to explain this one. All I can really say is that just when you think you can't handle stress or change (and then you do), you realize how strong you actually are. When I first moved away from home, part of me thought that within 3 months I'd be knocking on the door of my parents' house saying I couldn't do it. Well as we all know, I'm still here. LOL.
Going along with that, having an incredible support system of people reassuring you that yes, you are strong – is incredibly helpful.
Lesson 8: Don't assume that there will always be more time.
Growing up in San Diego, there were a lot of things I took for granted. I always told myself that there would be more time. When I realized that I'd be moving to Seattle, I squeezed in years worth of adventures before I left. I brought that lesson with me to Seattle, even though when I first moved here I thought that I'd be here for at least the next 3-5 years.
I made sure to spend all my free time doing new things and exploring the PNW. I made sure to check out all the seasonal events too. Little did I know that I would be moving to the Bay Area after a year. I'm so #grateful that I lived every moment to the fullest because had I told myself there would be more time, there's a lot in Seattle I would have missed.
Life is too short to tell yourself you'll do X later. Turn off Netflix, hop off the couch and get outside!
Lesson 9: Be grateful & remember to say thank you.
I grew up with parents that always reminded me of the importance of pleases & thank you's. Whether it was someone opening the door or helping me with my homework. For some reason my generation (the millennials) have become known for giving off ungrateful and entitled vibes.
Here's the thing – anyone that says that they became successful or accomplished anything, didn't do it alone. Our successes are made up of all the little things that people in our lives did (or didn't do) along the way. Whether it's a professor that spent 5 minutes giving you life advice, or your parents that helped you move into your first apartment.
Lesson 10: Live within your means.
Suddenly having your own income means that you have to determine what to save and what to spend on. Having monthly influxes of money (while great) can be hard to handle at first.
I recently read an article by Mark Cuban from Shark Tank on financial success. While I already knew most of what he was suggesting, it was a good reminder to not buy things I can't afford, and to save as much as possible.
Lesson 11: Know the news.
In college my parents would occasionally ask me if I had heard about Event X (whatever was happening in the world that day). Most of the time I had no idea what they were talking about. I argued that I didn't have time to read the news and without a TV in my dorm, I was out of the loop.
Nowadays, not knowing what's happening around the world is completely unacceptable. When a major event happens and you don't know about it, you look uneducated and child-like. But here's the thing – I don't watch the news. I spent about 10 minutes a day on catching up on the news.
I subscribe to the Skimm, morning news to my inbox which I read in 5 minutes. I also have downloaded news apps that send out news alerts when major events happen. All you really need are the headlines to stay up to date.
Lesson 12: Ask for what you want.
I've already summarized this in my post on 5 Lessons For Success – but basically, people aren't mind readers. And if you don't ask for what you want, you don't get to be upset about not getting it. As my mom would say, it doesn't cost anything to ask.
And that applies to seriously everything – blogging, work, friendships, relationships, shopping… everything!



Photography Courtesy of Karya Schanilec Photography.
What lessons did you learn out of college?
Disclaimer: The jacket was provided to me by Romwe, and the blouse by TrendyQuest. Use code GIULIA10 at checkout for 10% off your purchase with TrendyQuest.