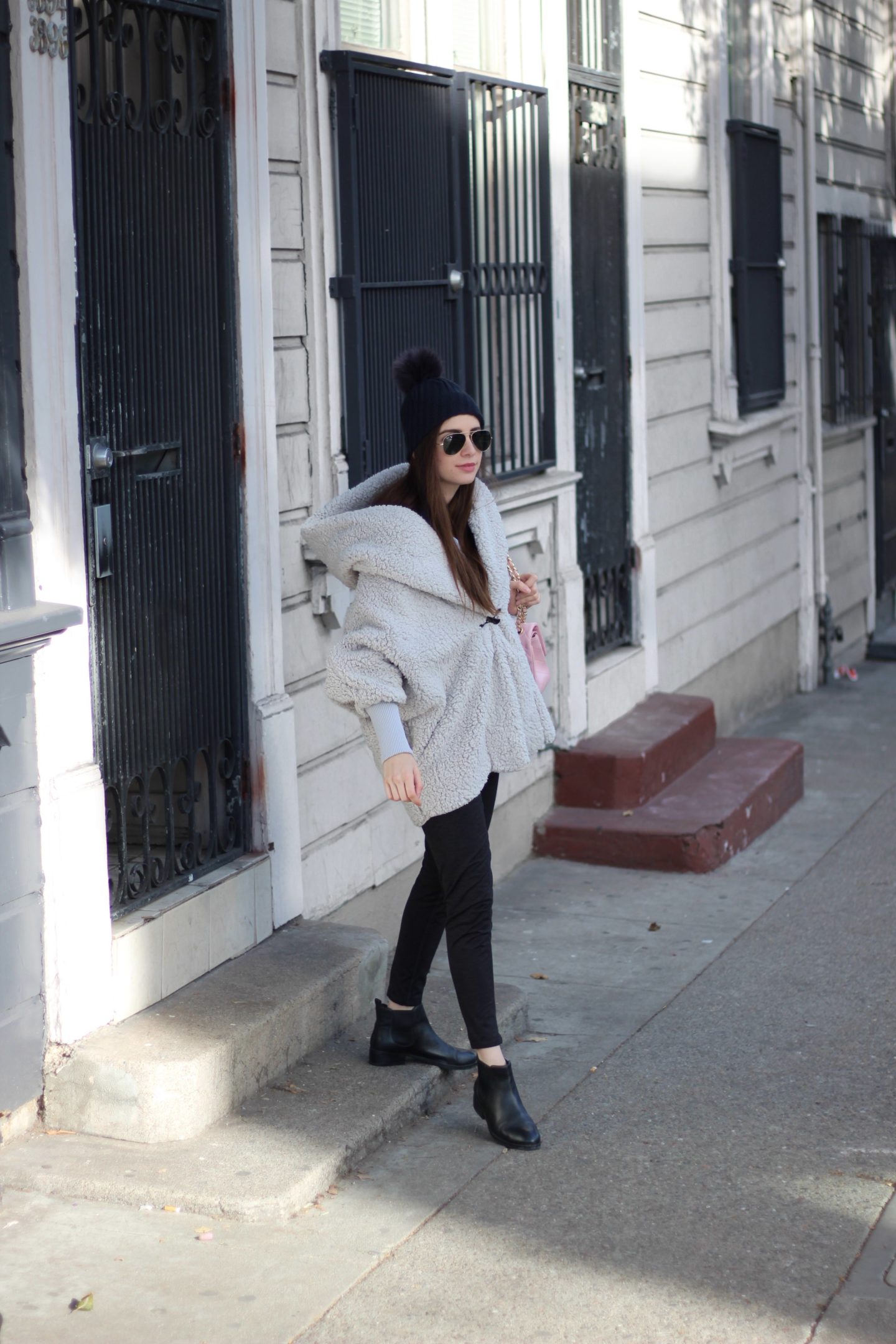 Hi P&P fam! I can't believe we are T-3 until Christmas. I literally haven't finished my Christmas shopping yet. EEK. It's been so long since I just posted an OOTD and did a little life update. The last few months in the Bay Area have been a whirlwind of SF trips, mingled with settling into Silicon Valley & work. I will say, one thing that is weird is having what I like to call "half seasons", not quite sun 365 days a year, but not Seattle/East Coast traditional seasons. Hence, when I assumed it was "winter" and wore this look to Le Marais Bakery in SF for brunch (without checking the weather report), I was low-key sweating.
Dressing for winter can be difficult with having to brave the cold and trying to be fashionable all at the same time. So today I'm sharing a simple formula that works for me even on my laziest of days :
Base layer (black or neutral) + statement bag + warm accessories
So let's break it down.
BASE LAYER
For me the base layer typically includes a pair of black jeans and black turtleneck or shirt. It matches everything. It's the best way to get the most use out of your accessories & coats. But I get it, we can't wear black on black for 3 months straight – so feel free to make your base layer anything neutral (think: jeans, brown, beige, gray).

STATEMENT BAG
A statement bag is the fastest and easiest way to look chic without putting in too much effort. It brings a pop of color to the neutral look and adds a little je ne sais quoi. And while I love what some brands like Gucci are doing to make your bag a piece of art, Shein and Amazon have some great alternatives that won't break the bank.

WARM ACCESSORIES
I typically invest in a couple high quality scarves and hats that are in the neutral colors. For trendy accessories, I tend to hit Forever 21 & Marshall's at the beginning of the season. Prices are super reasonable and you can try out a few different colors and looks.