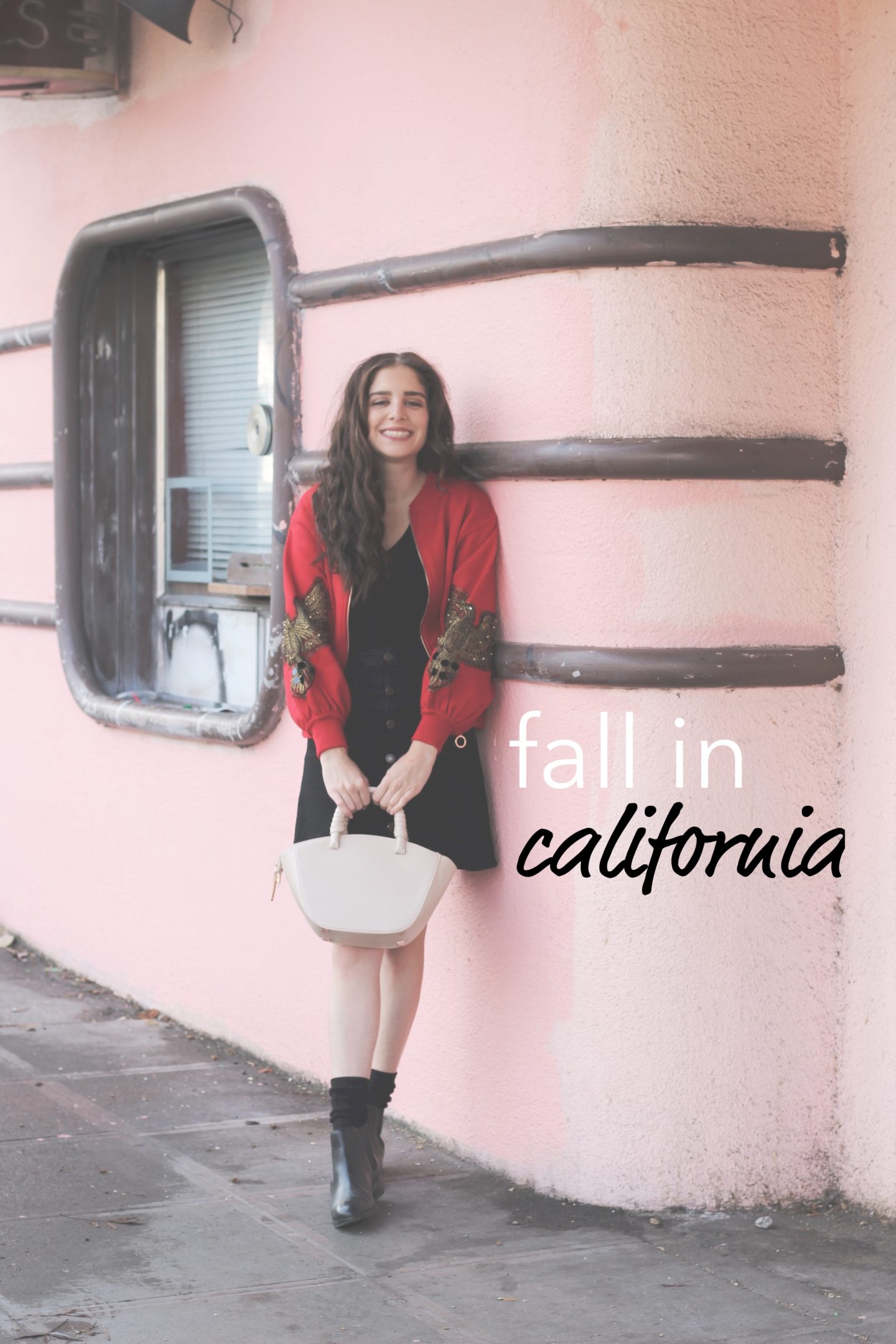 It's been months since I posted a purely fashion post. For the past 8 months or so I've lived by the mantra: "the professional woman should dress fabulously without her clothing defining her as a person." That's meant that I wasn't exactly inspired to talk trends. But as I was packing boxes for my move, I asked myself "what exactly am I supposed to wear for fall in California?! What is California Fall Style?" Fall in the PNW has meant throwing on scarves and hats and sweaters and layers. In honor of my move back to the sunshine state, today I'm 4 sharing tips for how to dress for fall in California. And don't worry, you'll be stylish, dressed for the season, and most importantly – not overheated.
Also, before we hop right it, I want to give a little shout out to Oliver Bilou for gifting me one of their "Taylor" bags to feature in this post.
4 Tips for Achieving California Fall Style
1. Check out this year's fall colors. 
Nothing screams out of season like white and pastels. Even though in theory we've decided you can wear white all year 'round, if you're trying to act like you live in a place that actually has seasons, you'll want to leave those white jeans in the closet for a while.
You can't go wrong with burnt oranges, olive greens, and camel browns which are classic fall colors. This article sums up this years added trendy colors (which you can also see on the left). I decided to go with Grenadine (red) for today's look. These colors are also fun options if you want to have a more progressive spin on the classics. Just because you're in fall doesn't mean you have to be stuck wearing brown and orange all season!
2. Aim towards light weight sweaters or dresses with boots. 
Here's the thing – you want to give the illusion of warmth without the actual heat of being warm. I have quite a few sweaters which I like to call "fake" sweaters – they look like sweaters but I'd never actually wear them in Seattle in the fall without a few layers. The dress + boots combo goes along a similar concept. The dress by itself might not say fall, but the boots definitely will.
For my look I paired a button down skirt with some Chelsea boots and longer socks.
3. Have optional layers 
Fall in San Diego is pretty interesting. It can be 50 degrees at 8 AM, 80 degrees at 12 PM, and 60 degrees at 5 PM. It can be frustrating to say the least! My favorite thing to do is have a light weight coat like the one I'm wearing to throw over your shoulders or leave in the car in the event you do get cold in the evening or while the AC is cranked at the office.
Some other layering options? A blanket scarf,  a sweater with a tee under that you can remove, and a hat you can use to keep your ears warm.
4. Always keep a hint of California
The reality is that when you dress for fall in California, it's too hot for a full fall wardrobe. All to say that there's no shame and repping the Sunshine state in your look. I fell in love with the "Taylor" because for some reason it reminded me of California. It had something to do with the rose gold details and light beige color. I love that it can work for all seasons. But it's low key totally bringing a bit of the sunshine state into the look.


| Oliver Bilou Bag c/o | SHEIN Zipper Jacket c/o | Black button down skirt (thrifted, similar) | Cole Haan Boots (old, similar)
Looking for more California fall style inspiration? You can visit my Fall Mood Pinterest Board here. You can also check out this blog post from an Los Angeles trip last year!