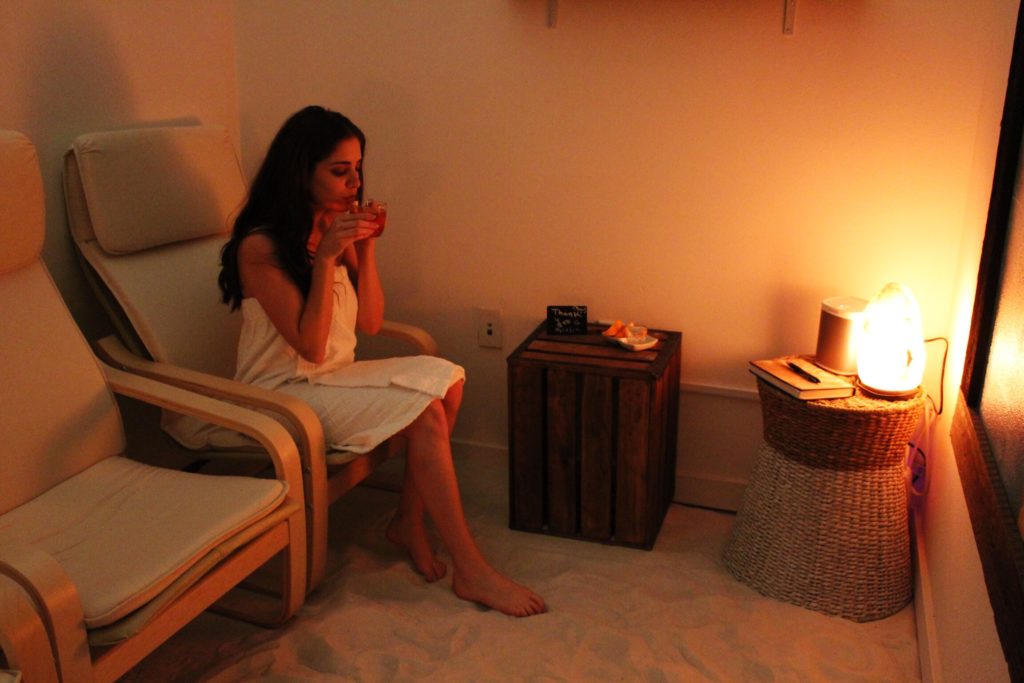 Today on el blog we're talking about stress. I think it's the word we all love to hate – "I'm stressed." "Ugh, today was so stressful." "Aren't you stressed with your workload?" I'm a big offender when it comes to using this word – part of my process of overcoming stress is venting about it!
Lately I had the opportunity to work with Seattle City Sweats (which opened a location right down the street from my office which was perfect!). They offer infrared sauna treatments, lymphatic drainage treatments, a 'tonic bar,' holistic facials, massages, and organic body scrubs.
The peaceful and relaxing experience is what had me take a step back and realize that for 1) I've been a little stressed lately and 2) I haven't been following my anti-stress regime. (We'll get to my favorite tips at the end).
I started out my experience in the lobby at the 'Tonic Bar' where I tried their Spice Detox Tonic, which believe me had me feeling 10x healthier than normal already. I'm usually more of a vanilla milk shake type of girl than a green juice, so I think my taste buds were a little shocked!
I then moved onto the Lymphatic drainage treatment :
uses a massage machine to stimulate the lymphatic system to push toxin-filled fluid out of the body.
The machine utilizes a non-invasive technique which applies pressure to various parts of the body to promote circulation.
Especially beneficial for colds and infections.
For some reason ever since I moved to Seattle I've been getting sick constantly! I had never heard of this treatment before, but it was cool how they wrap you up and a machine gives you a massage that targets different parts of the body while applying pressure. It lasts 45 minutes which I felt like was the perfect amount of time. Side note: I also loved that every room has a TV where you can watch movies or listen to calming music.
Next I moved onto the Infrared Sauna Treatment:
It helps with detoxification, weight loss, relaxation, skin clarification, insomnia, anxiety, depression, and asthma.
You get your own little cabin which plays calming music. I brought a book along with me to read for the 45 minutes as well. I loved that they also had a refreshing peppermint spray for your face & body in case the heat got overwhelming.
At the end of my visit, I was led to a back area that had sand and lawn chairs – so beachy it made me miss SoCal! A little area of refreshments was set out for me – iced tea, orange slices, and one of their tonics. This was a great way to finish my treatment as it was a cooling down and re-energizing process.
Overall review: I cannot stop talking about the beautiful and peaceful decor of the location! I think my experience was all in the details – you can really tell that the team thought of absolutely everything. In the future I would do the two treatments on separate days (to spread out the relaxation), but this would absolutely be a great option for a "spa day."
Tips for De-Stressing: 
Unplug 5 minutes a day – If I don't mind myself, I'll go all day hopping for task to task, checking my phone, and not "unplugging" until I go to sleep. I now set an alarm and spend at least 5 minutes away from my electronics (preferably outside) and just breathing and meditating. It's a great way to reset what I like to call the "stress clock."
Treat yo' self – When I'm having a particularly rough week, I make an appointment for a massage or something relaxing (like the infrared sauna!) While these things can get expensive, Groupon is a great option for finding good deals. Treating yourself can also be something as small as buying a cup of coffee and going for a walk.
Hit the gym – Some people are really disciplined and are great about making the gym part of their routine. I unfortunately am not one of those people. My friends know that when they see a Snapchat of me at the gym it's usually because I need to work off some steam. It's in my opinion one of the best ways to de-stress!
Write about it – I think it's human nature to get overwhelmed when a lot of things are on our plate. When I don't know what to do, I first write about why I'm stressed. Then I make an action plan with a 'To Do' list since I feel that it makes it more manageable. Lastly, I just write about why I'm grateful for what I have. Looking at the positives can be a great way to reset and realize that there's more to your life than this one moment of stress!
What are your tips for de-stressing?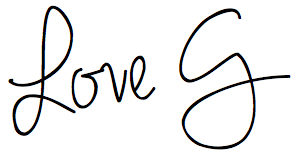 Disclaimer: City Sweats provided me the services mentioned above in exchange for an honest review of their company and services. All thoughts are my own.