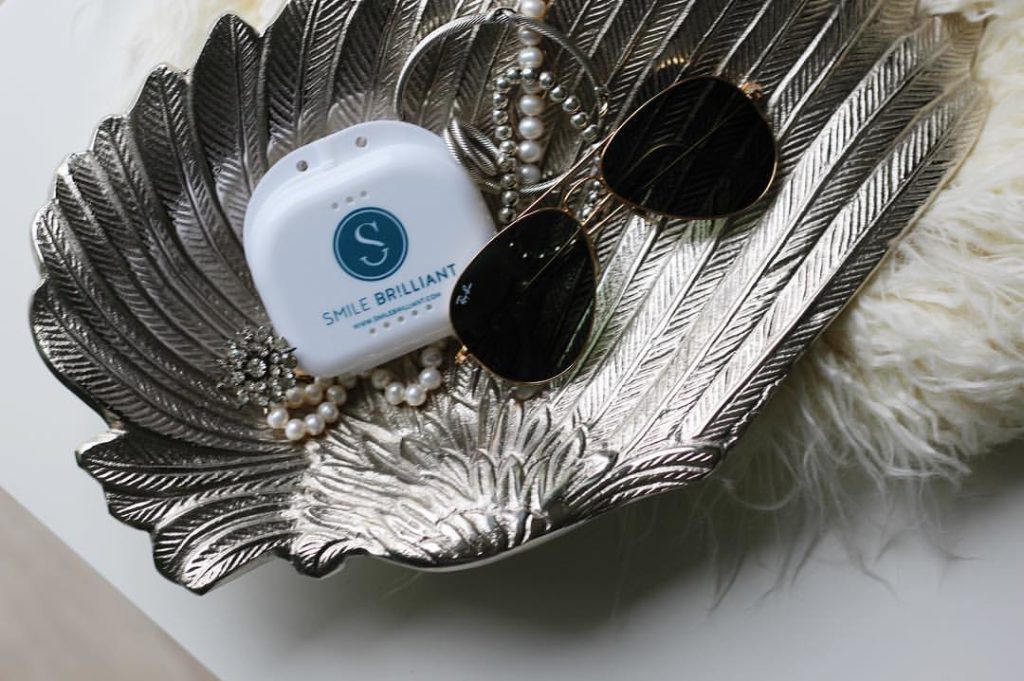 Hi babes,
Time for some teeth real talk – I don't often smile in photos because for the longest time I've been self-conscious about my teeth and their lack of whiteness. Oh, and it totally doesn't help that I'm a low key coffee addict. I had tried everything until Smile Brilliant reached out. I wasn't feeling too hopeful considering almost everything else I'd tried had failed, but I wanted to still give it a try. And…SUCCESS! My teeth are looking whiter than ever. Keep reading for details on the process, and a GIVEAWAY!!
The Process: 
STEP 1: Creating teeth impressions
Smile Brilliant sent me the entire kit I would need through the whole process. This included putty for creating impressions of my teeth and a pre-paid return envelope. In a little less than a week I had received my custom-fit trays and was ready to get to whitening.
STEP 2: Whitening
The kit that Smile Brilliant sent included three syringes of teeth whitening gel and three of the desensitizing gel. You start with the whitening gel. It is recommended to spend between one to three hours (and only once a day). After, you wash out the tray, you squeeze the desensitizing gel and keep it on 15-30 minutes.
The Verdict:
My teeth are WHITE, and I couldn't be happier. I've been using it 3x week for the last 2 weeks. I plan to continue and drop it to 1x week (since a little gel goes a long way!). I loved that I could multi-task as the trays don't fall out. Disclaimer: If you have sensitive teeth, I wouldn't use this daily and definitely not for 3 hours at a time. I have sensitive teeth so to begin I did an hour every 2 days and worked my way up to 3 hours every day. I would highly recommend this product. You can see more customer reviews here.
My tips: 
Don't brush your teeth right before using this. I did that once and my teeth were burning and I had to remove the gel after 15 minutes! Wait at least an hour after brushing your teeth before you use the trays.
Use the trays once you're done eating for the day. I think it makes the whitening much more effective.
Start with what you're comfortable with. Don't feel bad if the first time you whiten you can't keep it in for three hours.
A little goes a long way. I'm still on my first syringe and there's a huge difference in my teeth! A thin line of gel is more than enough.
 For more tips, you can watch one of my favorite youtube reviews
here
.
Giveaway & Discount Info:
Smile Brilliant has graciously provided a 5% discount code for you all to use. Just use coupon code 'palmtrees5' at checkout.
You can enter the giveaway
here
. The winner will receiver a $139 e-gift card to use on the Smile Brilliant site. The giveaway ends on
Feb 22nd
. Giveaway is open to USA, UK, Australia, and Canada residents!
*This post was sponsored by Smile Brilliant, but all opinions are my own *