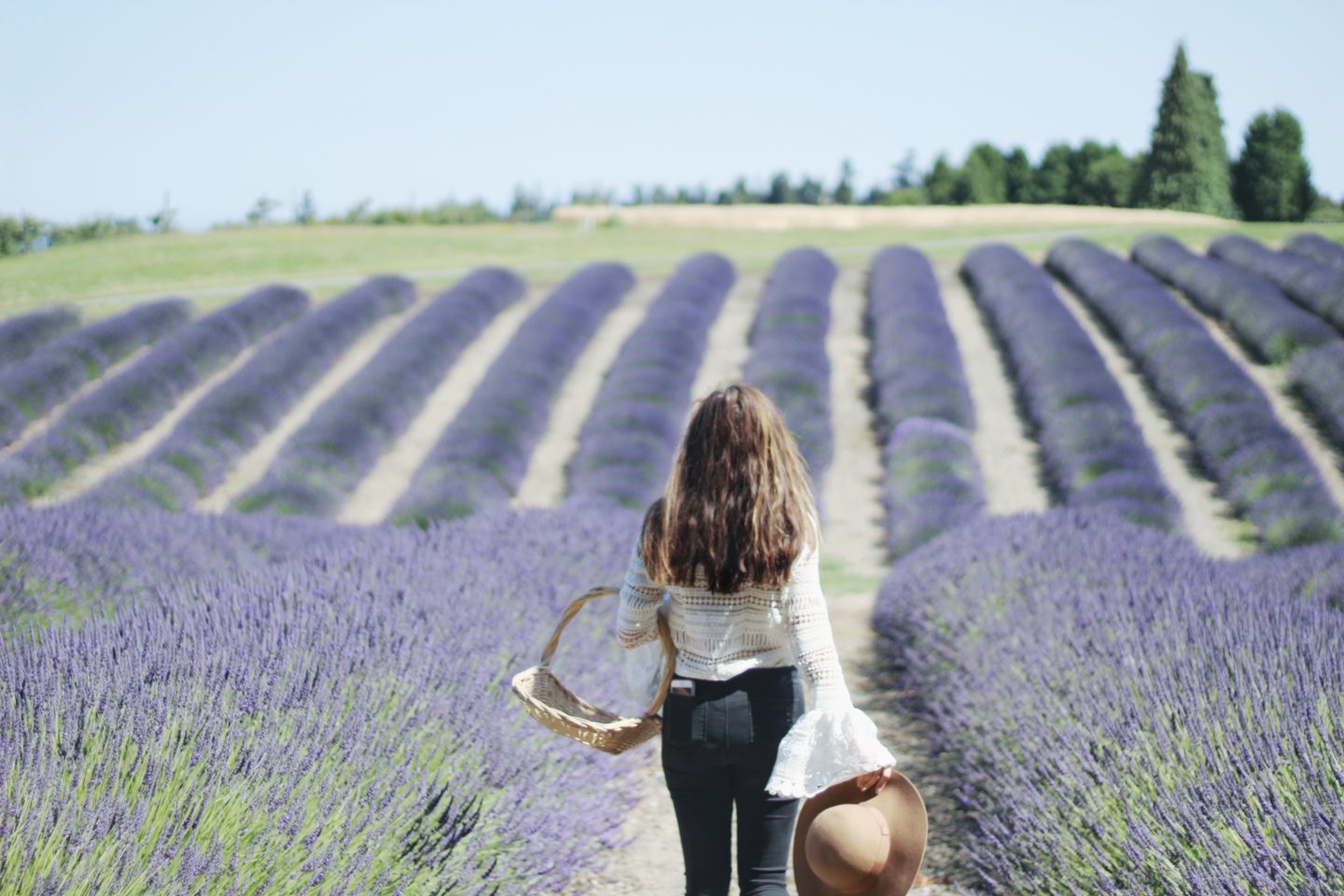 Something I love about having four seasons (aka living in Seattle) is that every season there is something unique to do – Fall? Pick a pumpkin at a pumpkin farm in Snohomish. Winter? Get a fresh cut Christmas tree in North Bend. Spring? Visit the tulip fields in Skagit Valley. Summer? Pick berries & lavender.
My fellow blogger babe/ Seattle bff Mare and I decided to do a day trip to Sequim (home to Washington's lavender farms) & Port Townshend, an adorable & chic town on the Olympic Peninsula.
When to Leave
We left at 8 AM, but we recommend leaving at 7/7:30 to give you more time to get coffee & food on the route.
Getting to Sequim from Seattle
You have a few different options for getting to Sequim from Seattle (all of which take 2-2.5 hours). – I would say that all require a car. I personally recommend taking the ferry option since it is a beautiful view over the water.
If you're north of the city: Take the Edmonds- Kingston Ferry. It departs every hour and the ferry ride is about 30 minutes long.
If you're in the city: Take the Seattle-Bainbridge Ferry. It departs every 50 minutes and the ferry ride is about 35 minutes long.
If you don't want to take the ferry & prefer to drive: You can take 5 South and go around the Olympic Peninsula
The Lavender Fields
When you get to Sequim there are lots of options for lavender farms & berry farms. We selected the Graysmarsh Berry Farm because we wanted a spot where we could go berry picking & visit the lavender fields. We decided to take a few pictures before grabbing boxes to pick raspberries (our berry of choice – they also had blueberries, blackberries, boysenberries, and strawberries).
A few more spots:
Lavender & Berry Picking Tips
Bring a change of clothes – if you wanted cute pics like us, I would recommend wearing what you want to be photographed in, and then bringing a change of clothes for picking berries. Everything is dusty so wear things you don't mind getting dirty!
Walk to the far end of the berry section that you want to pick– we made the mistake of starting closest to the entrance where there were hardly any berries! But when we walked to the farthest end, the berries were basically falling off the bushes!
Bring a container for your berries – It'll keep your berries fresh for the rest of the day instead of having them in an open box in the car
Lunch in Port Townshend
After a morning in the fields, we were so ready for lunch. As Port Townsend is about the halfway point between Sequim and Kingston, it's a great way to end the trip.  We had lunch at Silverwater Cafe before walking around town and along the water. The main street – Water Street – has a variety of adorable shops and restaurants. In a future post I'll be talking about one of the chicest boutiques in town – Emily's Armoire. (so stay tuned)



I had been dying to wear this dramatic bell sleeve top since receiving it from Shein earlier last week, and the lavender fields felt like the perfect backdrop to capture them. I also decided to dress down the top with a pair of black jean jeggings & Cougar slip ons (that are rubber and easy to clean)!
What activities are on your summer bucket list?