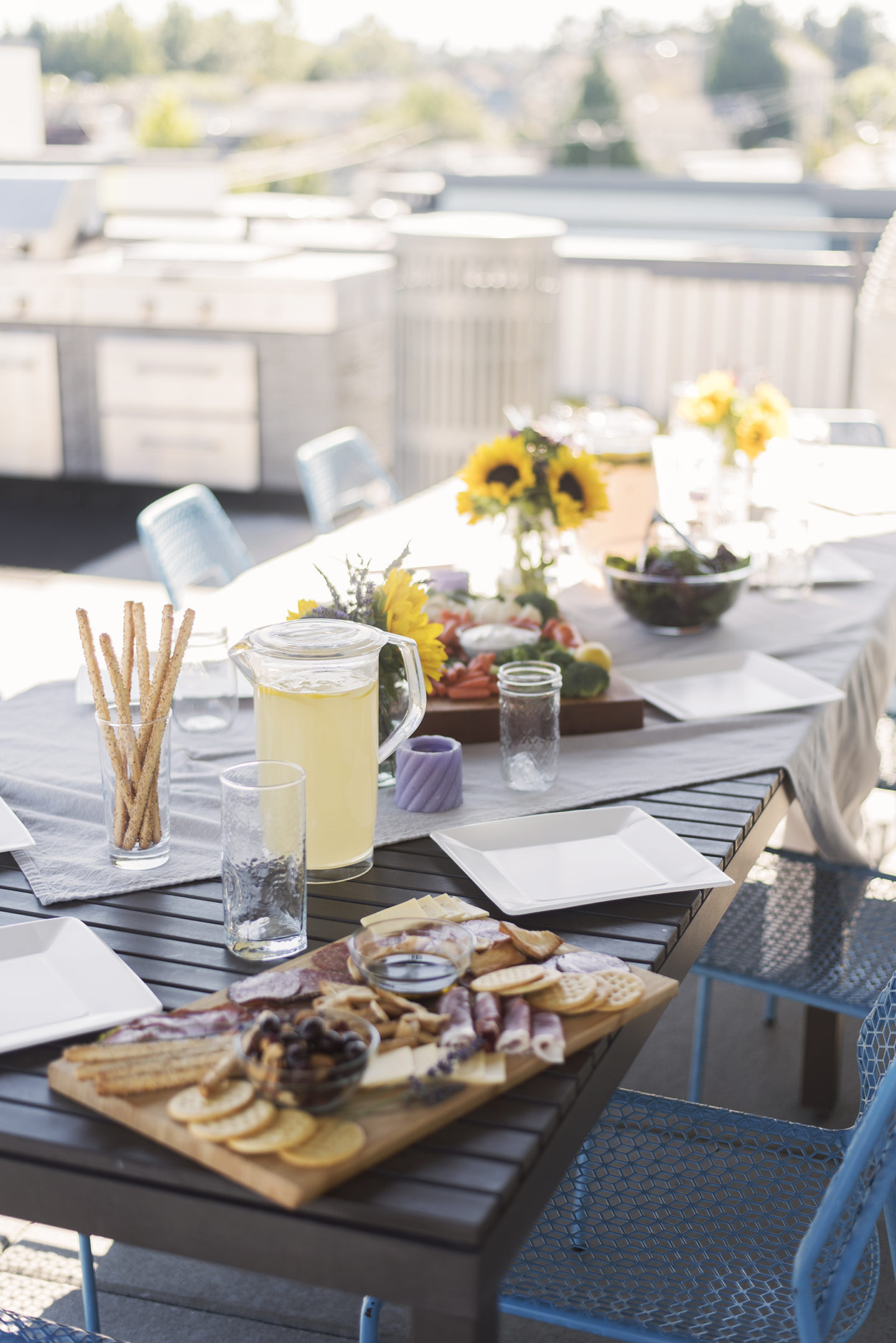 Seattle in the summer is gorgeous. I mean honestly, the summer days here make you forget that it rains 152 days a year. In honor of the summer, Mare (of MARELLEN) and I decided to throw a little soiree to celebrate. We love to "ball on a budget" – because who doesn't like more $$ in the bank while still looking classy?
Before I hop into the tips, I'd like to give a HUGE thank you to the following local Seattle businesses that sponsored our desserts and photography.
Without further ado, let's get to the tips! I will admit, this list is a checklist-tip hybrid to help you from A to Z with your soiree planning.
MAKE A GUEST LIST
I love to get right into thinking themes & foods, but before you can do anything – figure out who you plan to invite. This number will of course affect your budget and location. We decided to keep our soiree intimate with 8 of our closest friends (a total of 10 people).
Pro tip: By keeping an invite list small and intimate, you're able to 1) Save $$ 2) Invest in more quality food than focusing on quantity.
SET A BUDGET
It can be tempting to skip this section, but you'll be surprised how quickly items add up (even when you're shopping at a discount store)! Depending on your budget, your spending $$ really can vary. Here are a few more tips to help you avoid breaking the bank:
Co-host your event: If you can co-host your soiree that will cut your spending in half (or give you twice as much spendability as I like to put it)
Ask yourself how much you want to spend per person: This is a great way to estimate a reasonable budget. Ask yourself how much you want to spend per person (and consider drinks, food, dessert) and multiply that by the number of guests. We estimated about $10 per person, so our budget became $100.
Throw a pot luck: You can still throw an adorable event pot luck style by giving your guests a theme and asking them to bring something that goes with it. Then you can focus specifically on the decor!
PICK A LOCATION
Let's get real – this isn't your wedding – no need to drop a fortune on location! We were lucky enough to be able to use the roof of my apartment building that oversees the city of Seattle.
If you can't use a community area in your apartment or your home, look for a beautiful park to immerse yourself in nature, or if you're near a beach that can be fun for a laid back vibe. Also do some brainstorming – you may not have a roof/house that works, but a good friend of yours might – and they just might be willing to offer the space if you ask 🙂
GET PIN-SPIRED
You can visit our dinner party's Pinterest board here. Originally we kept going between a few themes – including palm trees/ pineapples, and lavender. We pinned everything from veggie platters to table settings. Being able to actually visualize the table, and food was super helpful for settling on a theme and for the last three tips in this list.
Real talk – the beautiful veggie board that Mare put together was a culmination of a few she had found on Pinterest!
PICK A THEME
As you can probably guess by all the lavender colors, we went with a lavender theme. We did this because 1) it felt very summer and 2) it felt very Pacific Northwest as it's currently lavender season here.
Pro tip: Pick a theme that goes well with the season because it makes decor shopping 100 times easier. If you do want to go with something that you can't just find at Target, make sure you plan well enough in advance so that you can order what you need online. 
MAKE A LIST
Making a list is crucial so that you don't forget anything, and so that you don't find yourself over-buying.
For Food: We assembled all the recipes we wanted to use and wrote down exact amounts of ingredients we needed
For decor & silverware:

For decor try to use as many items as you can from home (think: serving platters, etc.). I also try to integrate nature as much as possible because many times you can just pull over to the side of the road and clip some greens or lavender (which runs wild in Seattle!).
For silverware: make a list of utensils you'll need and check at home to see if you have anything before you buy!
GO SHOPPING
No, we didn't wear these looks shopping. LOL.
For shopping – first stop should (AKA needs to be) your local dollar store. And because each one has different items, if possible try to visit 2 of them before checking out Target or a Party City. Below are the stores that you should visit in order & what you should buy there:
Dollar Tree, 99 Cent Store (or equivalent): serving platters (our silver ones were from there), silverware, napkins, plates/bowls
Goodwill, Value Village (or equivalent): glass items, center pieces, and other odds and ends. Note: we found our mason jars that we used for drinks for 20 cents each at Goodwill.
Amazon: Perfect for speciality items like our lavender candles and purple paper straws
Costco: platters (like our veggie & meat/cheese platters), drinks, and anything else you need in bulk. We also got an inexpensive bouquet of flowers to split between the different mini vases.
Normal grocery store: Last stop for items needed in smaller quantities
PREP AHEAD
Truth – time on the day of an event feels like it goes way faster than usual. We had 6 hours to get ready and somehow the day flew by. Do as much prep as you can a few days before. The veggie, meat, and cheese platters we prepared the night before. Same with the silverware wrapped in napkins.
And there you have it! My tips for balling on a budget!