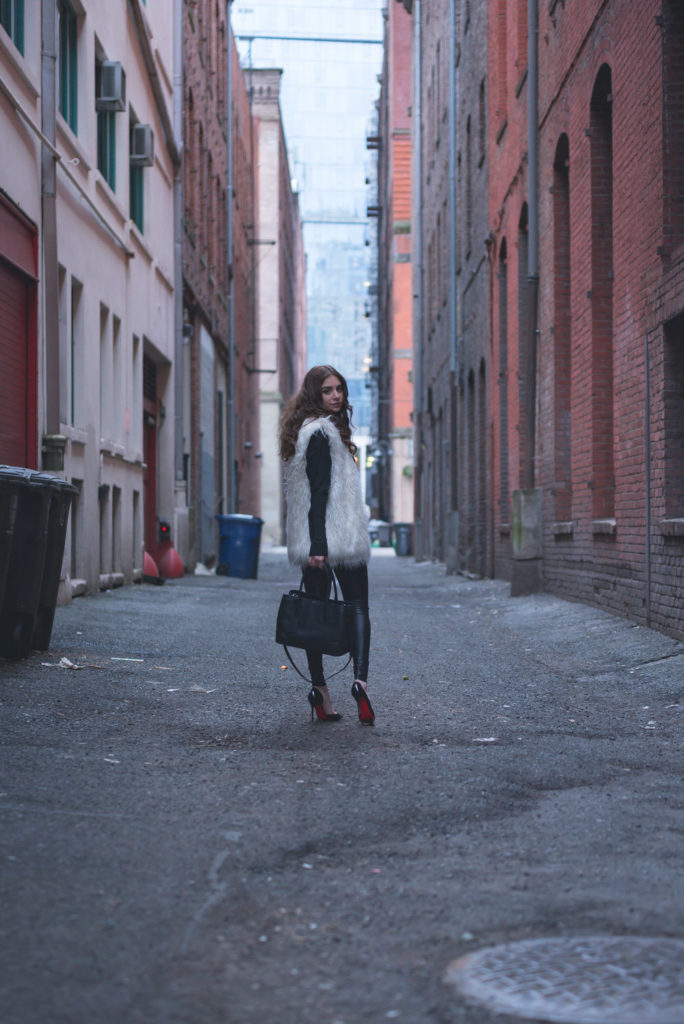 The past few days I've been seriously battling a tough cold, but fashion doesn't sleep it seems. This past weekend I got a chance to meet up with one of my favorite Seattle photographers, Tracy Lamont in Pioneer Square. We were feeling some major NYC vintage vibes with all the old buildings and sparkling lights. I haven't spent much time in Pioneer Square (maybe due to it's questionable reputation) but there are seriously some beautiful buildings and backgrounds.
I wore this look recently to a cocktail party where the dress code was TBA (aka not given). I wanted something that said glamorous and chic, but also down-stated and classy.
I wanted the outfit to stand out in the details – the red sole, the pussy bow collar, the hint of fun in the leather leggings and of course the white fur vest which brought everything together. The structured bag made it more professional, but swap it out for a clutch and it would be ready for dinner or a night out on the town. The light curls (thank you day 2 hair) made it look more natural with some body.
| Shoes | Leggings | Bag (similar) | Vest | Blouse (similar) |
What is your favorite #GirlBoss look?