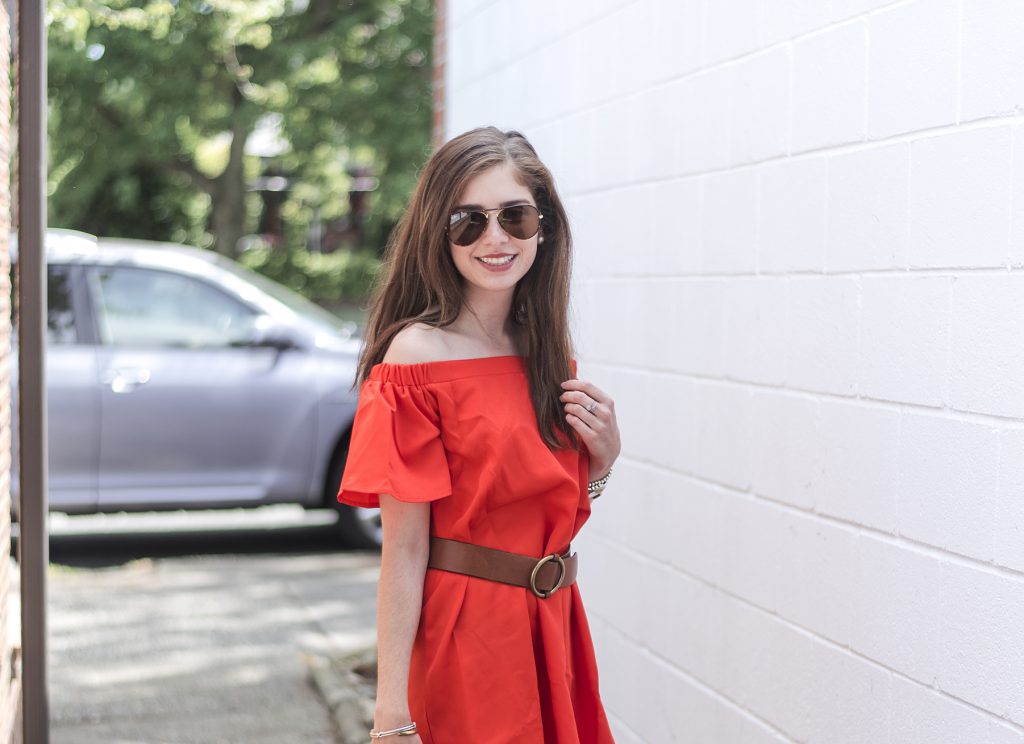 If you've been following along on my Insta-journey this past month, you know that I've been doing some low-key jet setting around Europe (I plan to post about my trip at some point…). While I'd love to say that I took this trip as a challenge to tone down my daily makeup, in reality it was more because I was involuntarily forced into the situation.
What happened: I'm not a huge makeup wearer in general, but on the daily I use about 10 products between my eyebrow pencil and contour kit, it all adds up! I had a 6 AM flight from Seattle to Munich, with a layover in Canada. I get to Canada and decide that I need some lipstick. After rummaging through my purse for 10 minutes (and frantically through my suitcase), I realize that I've left ALL my makeup at home. Panicked would be an understatement. And more than panicked, I was livid with myself. Even though you could argue that duty free has a fabulous makeup aisle, the idea of buying all new makeup when I already had it all at home made me frustrated.
I decided to survive with the bare minimum (and later realized that in the makeup world, a challenge to minimize makeup use already existed.)
Below I'm sharing what I did, what I learned, and how the experience has changed how I look at makeup.
What I used: What did I determine were the bare essentials? I went with 4 products – Clinique's powder foundation , a nude NYX matte lipstick in the color Soft Spoken, Clinique's Cheek Pop Blush, and a British nude eyeshadow palette similar to the travel Naked palette. That was it.
What I learned: 
1.A pimple is just a pimple (and no one cares) – I'm a little embarrassed to say that I avoided mirrors the first few days of my trip, and felt like I didn't want to be photographed. I was like "who is that person?" I think I was so used to always trying to look the most flawless and perfect that I could, that anything other than that was unacceptable. I finally realized that no one (except me) was looking at my face with a magnifying glass. At the end of the day, a pimple is just a pimple, not a volcano size crater.
2. Your face will thank you – Shout out to my mom on this one who has been preaching this concept for years. Within a week of starting this regime, my skin hardly even needed any foundation because it was look 99% clear (which fyi NEVER happens). I think allowing your face to have a break and reset is so important. I plan to go a few days makeup free every month.
3. You can hit snooze a few more times – I was surprised by how much extra time I had every morning, which in my book translated to more sleep time. Those 30 minutes I usually spent in front of the mirror covering up my under eye circles (from not enough sleep) started disappearing because I was sleeping more.
4. I focused more on my attire – I don't know about y'all, but on days where I just want to look like a somewhat glorified hobo (I'm talking ancient sorority tee, faded leggings, and a messy bun), I make up for it by well, making myself up. I put the extra effort into my face. But by taking that away, I spent more time putting together outfits and making sure that I looked coordinated and chic.
The future: How did this experience effect how I'm planning to proceed? Well if you can tell by the photos from my latest shoot, my face is pretty minimalist & natural. I plan to keep this trend of minimalism going (somewhat). I'm planning to go to a happy medium where I'm not spending 30 minutes, but I'm using more than 4 products. I also plan to give my skin more breaks when I don't absolutely need makeup.
And a final note of makeup while traveling: Traveling is the perfect time to test out this challenge. You want to spend more time touristing than getting ready, and you want to travel light (to make room for more souvenirs!) And bonus: no one knows you!
Photography by Karya Schanilec


| ROMWE dress c/o (on sale for $10.99!) | Banana Republic belt (old, similar) | Ray Ban sunglasses | Forever 21 mules (old, similar) | Louis Vuitton Speedy |
Have you tried the minimalist makeup challenge? I want to hear about your experience below!