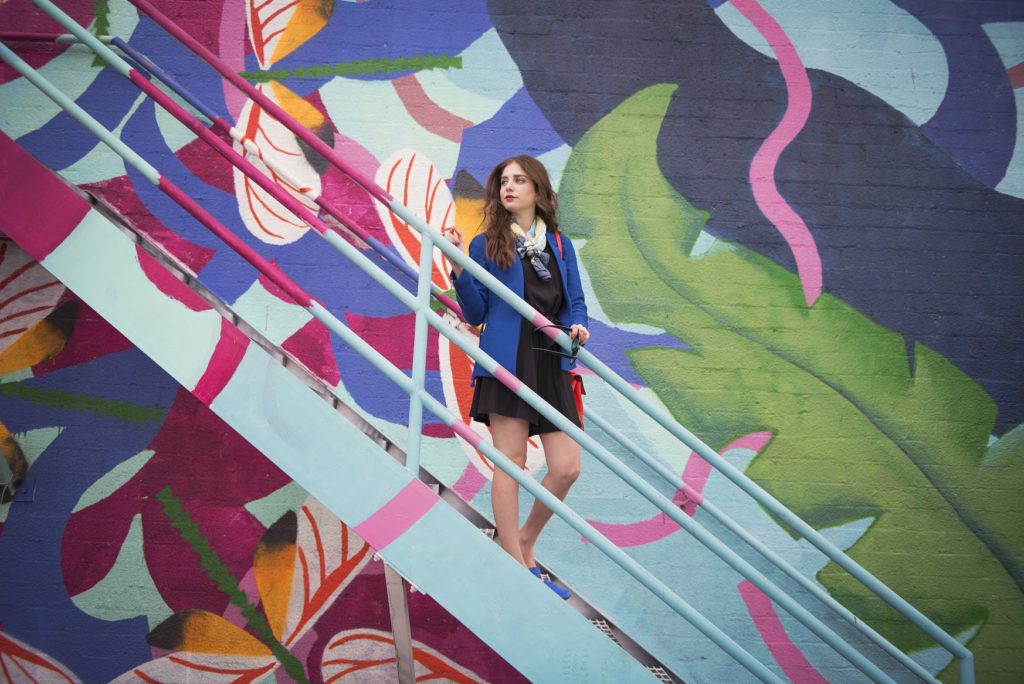 Yesterday was Groundhog Day, and I was seriously hoping to start off spring a little ahead of schedule, especially since there have been a few warm days in Seattle recently. I don't know about you, but I'm so ready to get out of what I'm calling "gray season."
Today's look is very Spring Office Fashion. I was inspired by my upcoming trip to California next week. I'm excited to say hello to the sun and palm trees!
The colors are fun, but the structure of the look – loafers, blazer, silk scarf – are all very traditional. I feel like this says "fashionable" without being something that would only be acceptable to wear to work at a fashion magazine.


| Romper | Blazer (similar) | Bag (similar) | Loafers (similar) | Scarf (similar) | Sunglasses |
I picked up this small briefcase style bag in Sicily this past summer. It's from a brand that isn't exactly well known in the US, but is pretty popular in Italy. If you haven't heard of Coccinelle, they're having a major Winter Sale right now. The scarf was a vintage find, but it's reminiscent of a Ralph Lauren circa 1980. The romper was a recent buy at the Zara Sale that I cannot stop talking about!! It has the cutest little tie front, and the bottom looks like a dress but is actually shorts.  They're still on sale on line. Find it here.  The J Crew loafers were a Christmas gift, but you must know by now that I'm loafer obsessed. Any color, any print, I'm ALL about it. And lastly, my favorite electric blue blazer. One of my favorite buys from the Zara summer sale, I've worn it through quite a few seasons, dressing it up in different ways. It's a closet staple.
What are you looking forward to for Spring?